Updates from the Pennsylvania State Archive
Ongoing updates on the construction of the new Pennsylvania State Archives building in Harrisburg, PA and new ways to access genealogy records.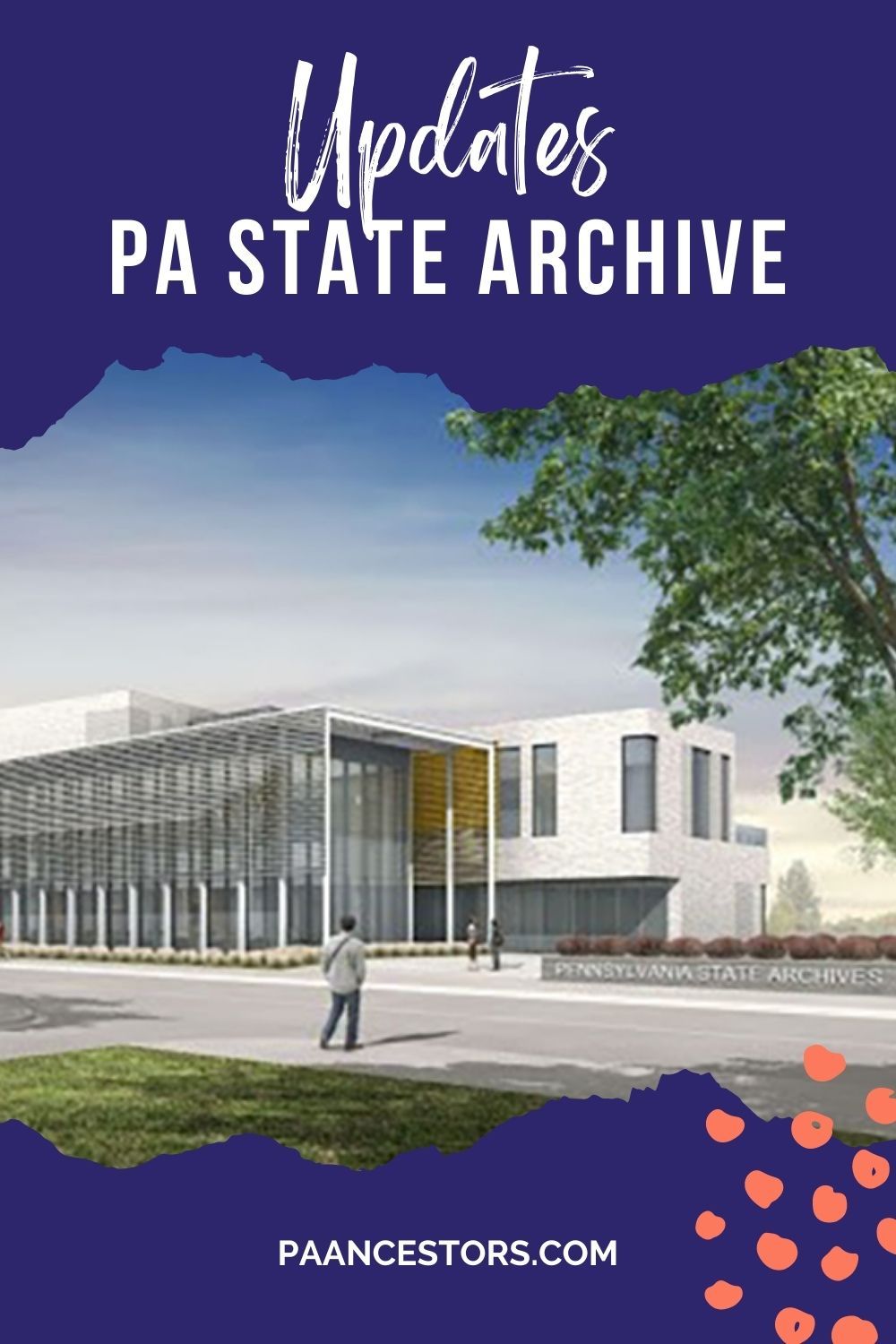 This post will be an ongoing updated list of news from the Pennsylvania State Archives for genealogy researchers. It will be in reverse chronological order with the newest updates first.
PA State Archives Closes for Summer 2023
The time is finally here for the Pennsylvania State Archives to move to their new building in Harrisburg, PA. The facility will close for research for the summer of 2023. Here is the update from their website:
Pennsylvania State Archives Closure Dates and Information
At the end of May, the Pennsylvania State Archives will begin the long-awaited move to its new facility at 1681 North Sixth Street, Harrisburg, PA. In anticipation of the move, the Archives will close the public search room and suspend all reference services beginning on the following dates:
• Monday, May 8, 2023 – The processing of all mail and email reference requests will be suspended. Research requests and inquiries must be received by Friday, May 5 to be processed. All mail and email requests received after this date will be returned for re-submission after the Archives reopens at its new facility.
• Monday, May 22, 2023 – The Archives search room will close to the public. The records and services typically provided in the search room will be unavailable until the Archives reopens at its new facility.
The new State Archives building is expected to open to the public in late September 2023.
PA State Archive Building Updates March 2021
The Pennsylvania State Archives began plans for a new building in 2016. Land covering six city blocks in Harrisburg was purchased and money appropriated.
Yesterday, 7 March 2021, David Carmichael, State Archivist for Pennsylvania, spoke virtually to the South Central Pennsylvania Genealogical Society. He gave exciting updates on the construction of the new archives building and the future for records access.
To watch the entire presentation, go to the York History Center Facebook page. Here are the highlights:
The new 137,000 sq ft archives building will be mostly storage, however
Display areas will feature rotating items from the collection.
Researchers will find more tables, chairs, and better lighting.
Gone are microfilm readers. Digitized microfilm available to browse by image on computers.
Some digitized microfilm will become available to browse from home. Currently the PA State Library Power Library hosts the PA State Archive collection. (Note: these are not indexed and searchable)
The PA State Archive catalog of finding aids is now on Eloquent Systems, and will soon change it's name to "The Arch."
There is no date for post-Covid opening. It's expected that appointments will be required. (When I hear anything I will put it in the newsletter.)
Archives staff are answering questions by email. You can contact them through the website pastatearchives.org.
I hope they have a grand opening party in fall 2022 to celebrate!