Podcast Episode 1: Pennsylvania State Archives
Interview with the Pennsylvania State Archive on Pennsylvania land records, Pennsylvania militia and National Guard records, and digital records available.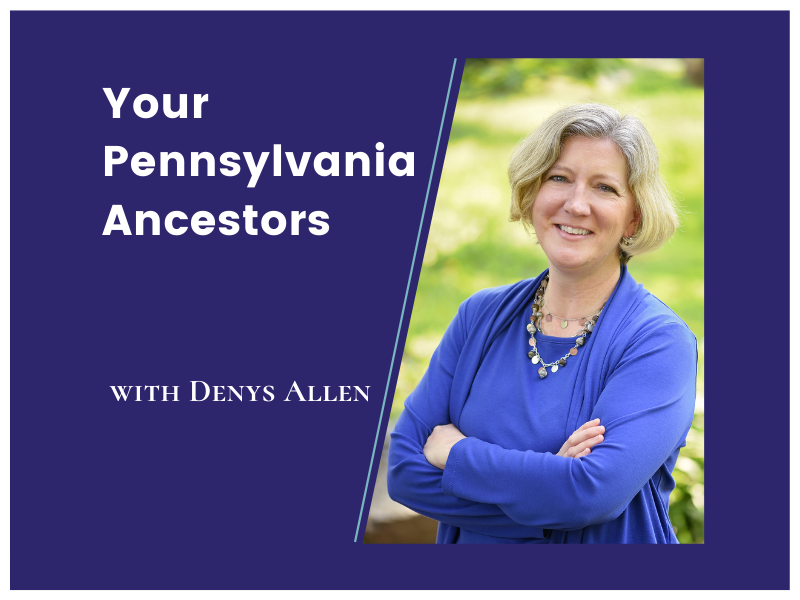 Listen to the Audio Podcast
In this episode of Your Pennsylvania Ancestors, Denys Allen has a conversation with Pennsylvania State Archive Reference Archivist, Aaron McWilliams. Aaron has experience in PA land records, militia records, and is a professional genealogist. Learn how to research in an archives successfully, what kinds of records you can find, and how to handle surprises.
Topics Discussed
Aaron McWilliams, Pennsylvania State Reference Archivist, shares what kinds of records genealogists can expect to find at the Pennsylvania State Archive in Harrisburg, PA and how to make the most of your visit.
Learn how to research Pennsylvania land records, militia and National Guard records, state hospital patient records, county records, and those more obscure unusual records kept by the state. We also discuss the shocking history of slavery in Pennsylvania and some surprising finds Aaron's made in his own genealogy research.
We talk about the future plans for the PA State Archive and the current digitization of PA State Archives records by Ancestry, FamilySearch, and the Power Library through the Pennsylvania State Library in Harrisburg.
Links
Updates from the Pennsylvania State Archives for 2023
The PA State Archives began a construction project in 2016 to design and build a new archives building in Harrisburg, PA. Construction began in 2020 and completed in 2022. During the summer of 2023 the State Archives will move from its current location next to the Pennsylvania State Capital building to its new location 1681 North Sixth Street, Harrisburg, PA.
Your Pennsylvania Ancestors is distributed through the following channels:




© 2019–2022 PA Ancestors L.L.C. and Denys Allen. All Rights Reserved.