The Labor of Your Ancestors
Your Pennsylvania ancestors worked in Lumber, Coal Mining, Oil Drilling, Steel Manufacturing, Textile Production, Tanning Leather, Consumer Products, and Agriculture.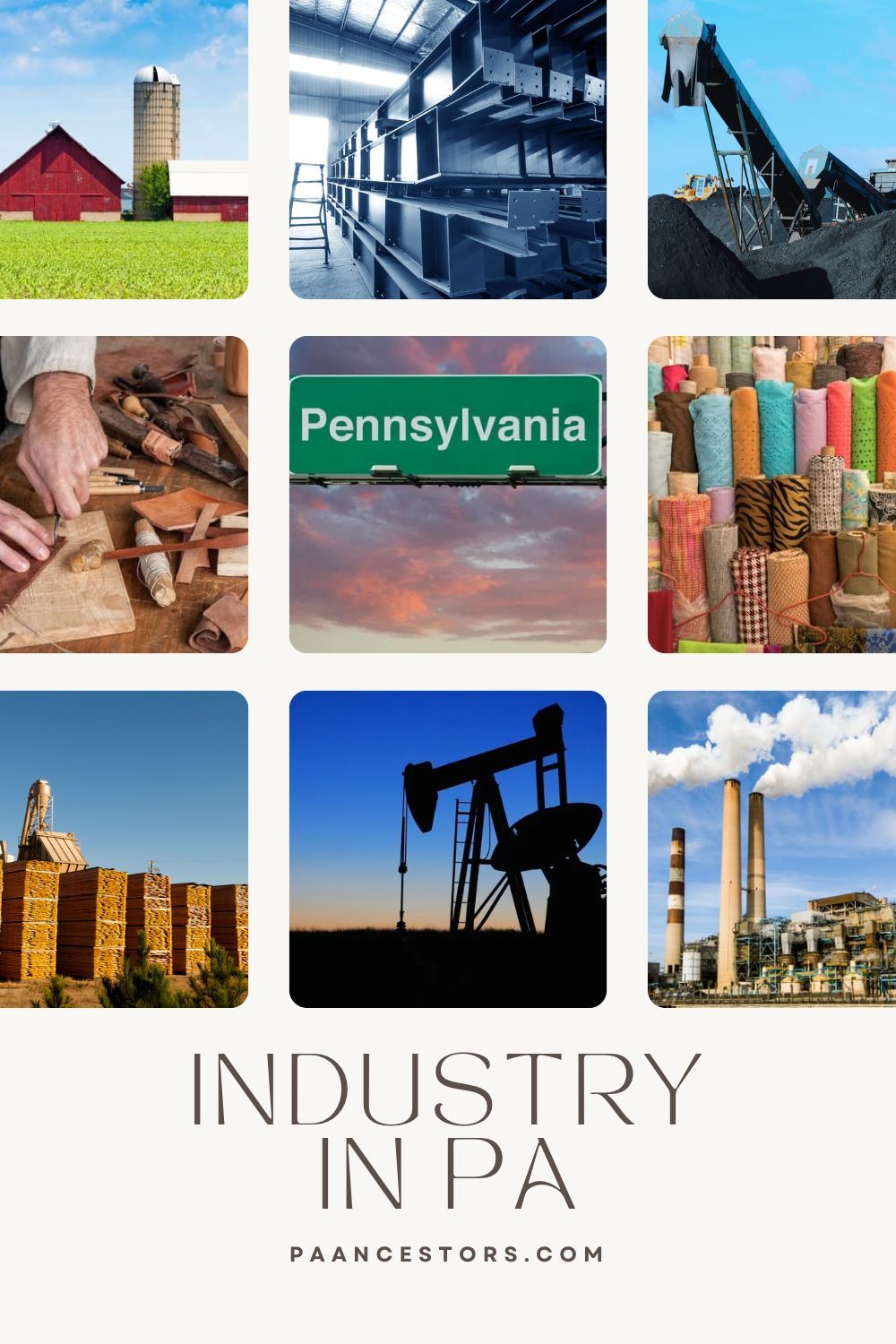 Labor Day marks the end of summer for most of us in the United States. Labor Day began in 1882 as local celebration in New York City. Many states then added the holiday to celebrate the contribution of workers. In 1894 Congress officially made the first Monday in September a national holiday to celebrate American workers and their achievements.
The labor of the 19th century is very different than today's jobs. Your ancestors who lived in Pennsylvania participated in a manufacturing powerhouse that was here then. The US census tells you the occupation of your ancestors. Read more at Using US Census Records to Boost Your Genealogy Research.
Here's all the types of work your ancestors did in the 1800's through 1900's in PA.
Lumber Mills
If you travel PA from the southern border with Maryland and West Virginia to the northern border with New York, the one thing you will see is trees. Rolling hills and mountains of trees covered the majority of the state when  founded and still do today.
Through out the the 1700's and early 1800's hundreds of men worked the log drive. The types of wood harvested include white pine, oak, chestnut, maple, beech, and cherry. They cut down trees with hand axes, then floated the logs down the streams and rivers to the mills. So many trees would be felled at once that they created a "log jam" in the river. Eire was the center of paper making for state. Many towns such as Lancaster and Norristown had furniture makers and clock makers. Most early homes were log cabins, and later homes constructed with wood siding, doors, and window frames.
Coal Mining
Prior to 1920, Pennsylvania produced more anthracite coal than all other states combined. Coal fueled steam engines which in turn powered trains, boats, and ships from 1840 until about World War One. Coal provided in home heating fuel and powered electricity generating plants.
The Anthratcite Coal Region of PA centers around the cities of Scranton, Wilkes-Barre, Hazleton, and Pottsville. The Bitmous Coal Region of PA centers around smaller towns in the western half of Pennsylvania. Tens of thousands of immigrants came to work in the coal mines between 1850 and 1920. Children as young as 8 years old worked as underground miners.
Oil Drilling
Did you know oil was first discovered in Pennsylvania?
Venango County is known for the discovery of petroleum oil in 1859. Prior to 1900, millions of barrels of oil shipped all over the world for use in industry. The wells in PA quickly reached peak production and other parts of the country took over oil drilling. The discovery of refining petroleum into gasoline and diesel brought transportation to everyone. Philadelphia was the center of oil refining in 1900 and still is today.
---
---
Steel Manufacturing
Prior to the industrial steel production in the late 1800's, the PA landscape was dotted with iron plantation furnaces. Iron workers lived on-site mining iron ore, producing the charcoal, and then refining and casting the iron. PA produced many of the gun parts for the Revolutionary War and Civil War.
The development of steel manufacturing was inevitable in PA, because it combined the state's iron and coal resources. Pittsburgh, Bethlehem, and Johnstown were the centers of steel manufacturing until the 1980's. Steel built the 20th century – skyscrapers, naval ships, bridges, car frames, military vehicles .
Textile Production
Manufacturers of various kinds of cloth dotted the banks of the major rivers of Pennsylvania. The dying process required a lot of water, and before environmental regulations, the rivers provided that water. Raw cotton, hemp, silk, wool, and linen came by ship in Philadelphia. Mills all around the Philadelphia area wove the raw material in fabric and ropes.
In 1900, textile manufacturing ranked second behind iron and steel manufacturing in the state. Philadelphia was the number one manufacturer of textiles in the entire United States for products such as wool clothing, Kentucky jeans, twills, flannels, silk threads, and carpets.
Tanning Leather
In 1870, Pennsylvania had 890 leather tanneries. The work centered around Tioga, Elk, Potter and Clearfield counties. Workers turned raw animal hide into leather using the bark of hemlock or oak trees to process it. Philadelphia turned the new leather into consumer products such as belts, shoes, bags, and saddles.
Consumer Products
It's hard to believe in 2020, but PA had factories which produced numerous consumer products such as: cigars, kerosene lamps, glass bottles, surgical tools, rubber tires, and ceramic dinner ware. Products move from Philadelphia by ship, by canal, and later by rail through out the country.
Food Production
The development of household meals from factory produced and preserved food started in Philadelphia.
Factories first did sugar refining of imported raw cane sugar from the Caribbean, Brazil, and India.  Wheat was processed with factory machines, rather than local mills, into flour. Canning technology allowed the preservation of vegetable and meats on a massive scale.
It wasn't just practical food that was produced in Pennsylvania. The United States' most famous chocolate makers began in Pennsylvania. Have you heard of Hershey's Chocolate?
Railways
Is there anything more iconic than the Reading Railroad from the Monopoly board game?
The Pennsylvania Railroad and Reading Railroad emerged from the purchase of dozens of small railroad companies between 1859 and 1900. They moved PA's many raw materials and manufactured products to the ports of the Delaware River in Philadelphia. The central location for construction and maintenance of railway cars was Altooona. All the manufacturing cities across PA had regular, daily passenger and freight rail service. By 1881 people could easily travel to Washington D.C., New York City, St. Louis, and Cincinnati.
What About Your Ancestors?
Across industries the integration of African Americans and women into manufacturing varied by town. Generally, work could have been segregated by race and gender until the 1960's. In larger cities women and African Americans tended to work as domestic labor in personal homes. In the smaller manufacturing towns, more opportunity existed for full integration.
If you saw the term "laborer" listed as a person's occupation, one way to figure out more about their employment is to contact the local county historical society. They can tell you about the places of where people worked. With that information you can search in newspapers and find out all about the company.
Learn more about Pennsylvania newspapers in this article: Pennsylvania Newspaper Collections: A Rich Source of Local History
Sources for More Reading:
History of Labor Day, United States Department of Labor website, https://www.dol.gov/general/laborday/history, accessed 3 Sept 2020.
A History of Pennsylvania, by Philip S. Klein and Ari Hoogenboom, McGraw Hill, 1973.
The History of Pennsylvania, by Arthur D. Graeff, John C. Wiston Company, 1944.
The Philadelphia Negro: A Social Study, by W.E.B. DuBois, University of Pennsylvania Press, 1899.
Women Working, 1800-1930: An exploration of women's impact on the economic life of the United States between 1800 and the Great Depression, digital collection, Harvard University Library, https://library.harvard.edu/collections/women-working-1800-1930, accessed 3 Sept 2020.
© 2019–2023 PA Ancestors L.L.C. and Denys Allen. All Rights Reserved.