Three Steps to Find Pennsylvania Marriage Licenses
Pennsylvania began issuing marriage licenses in 1885 and these public records are not all online. Here's a 3 step process for locating marriage licenses starting online and ending at the county courthouse.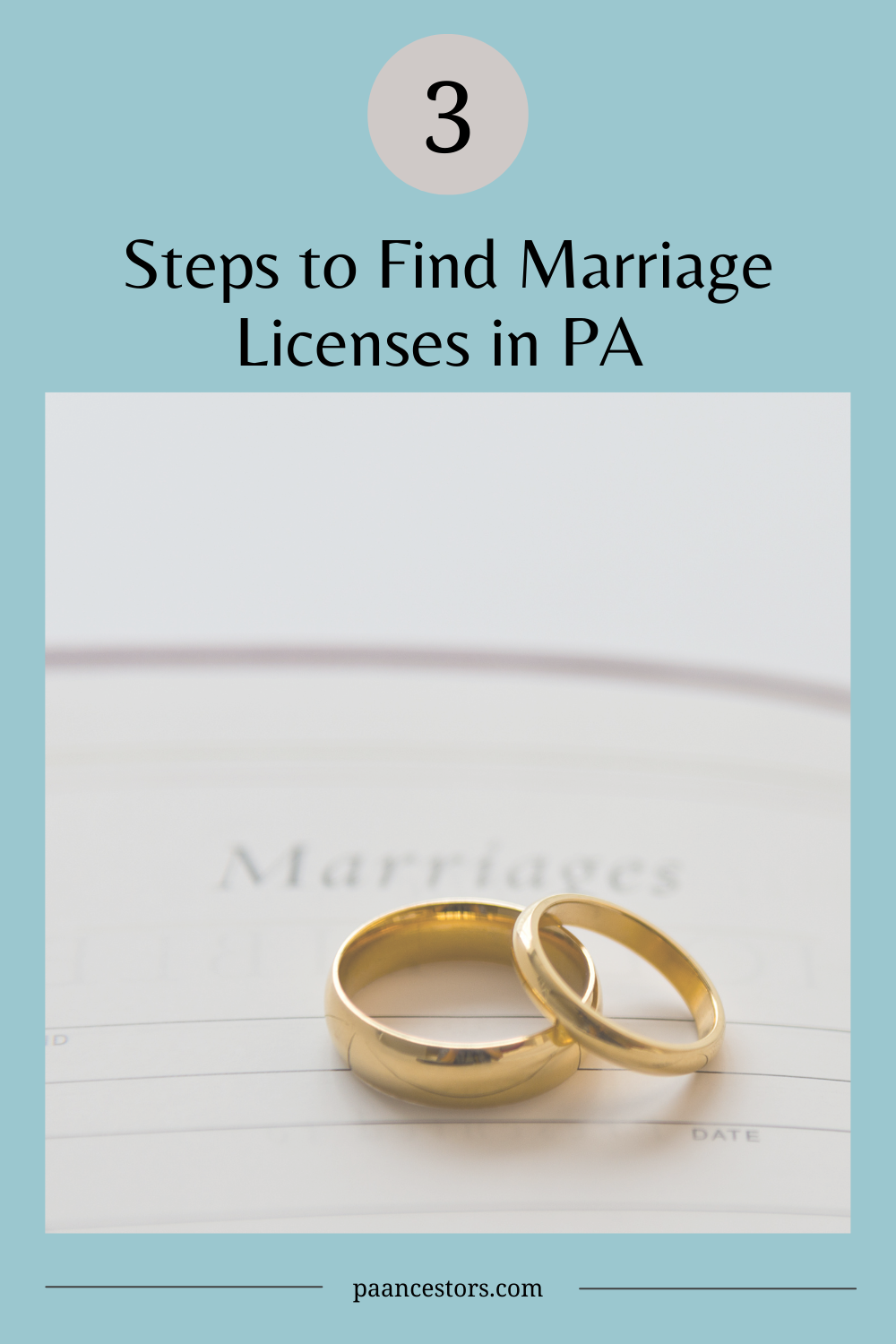 Finding marriage licenses is an essential part of genealogical research, providing valuable information to further genealogy research.
In Pennsylvania, marriage licenses have been issued since 1885, and they offer a wealth of information, including the parents' names, age, residence, place of birth, and the person who officiated the marriage.
However, locating these records can sometimes be challenging, as not all of them are readily available online. In this article, we will walk through a three-step process to help you find marriage licenses in Pennsylvania, ensuring that you have all the tools necessary to unlock the hidden treasures of your family history.
Essential Information about Pennsylvania Marriage Records
Each county in Pennsylvania began issuing marriage licenses in 1885. Marriage licenses provide the genealogist with the parents of the bride and groom, as well as their age, residence, place of birth, and who married the couple (A great way to determine their religious faith and find more records!).
If your ancestors lived in one of PA'a larger cities – Philadelphia, Pittsburg, Reading, Allentown, Scranton – you'll find something similar called marriage registrations beginning much earlier than 1885. See my article Unveiling Pennsylvania's 19th Century Vital Record Registrations for how to find these records.
Marriage licenses are incredibly valuable for genealogical research. Some of these marriage records have been digitized and indexed online, but most are hidden as images available for browsing.
Here's a quick three step plan to find Pennsylvania county marriage licenses:
Step 1: Check the Indexed Marriage Records
We are going to start with the easiest search first - checking marriage licenses that have been digitized and indexed on the major genealogy websites.
FamilySearch hosts the digitized and indexed county marriage licenses of Pennsylvania in two databases:
These same databases are on Ancestry under two names:
Unfortunately, the Ancestry database has just the index and not the images of the original documents. If you find something on Ancestry, be sure to get that image of the original marriage license either on FamilySearch or from the county courthouse.
If the marriage record you want is not here, the next step is to check the unindexed digitized images.
Step 2: Check the Digitized Images
There are billions of records on FamilySearch not yet indexed for computer searching.
To access these records for Pennsylvania, go to the FamilySearch catalog and type in the county you are interested in searching. Then scroll to the Vital Records section to view the available marriage records.
Now to search these records, imagine you are opening a large book and paging through it. In the front of each book is an index to show which record is on which page. In my PA Ancestors Membership I do a walkthrough of using a complex book index to find an exact record. To view all the benefits of membership, go here.
⭐
Membership Benefits:
By becoming a member of PA Ancestors, you gain access to numerous benefits, including expert guidance on using book indexes effectively. To learn more about all the advantages of membership, visit the
PA Ancestors Membership
page.
Even with millions of images of Pennsylvania marriage records in the FamilySearch collection, not every county's marriage licences are represented. But don't give up! Move on to Step 3 and contact the county.
Step 3: Contact the County
After exhausting online possibilities, it's time for old-school genealogy work and to contact the county directly.
Each Pennsylvania county maintains the historical records they have issued since their inception. Some counties set up a separate county archive to hold these records. Some counties house the records with the local historical society or library. Still other counties have these original records in the courthouse itself. Occassionally a county's original records end up in a university archive or the Pennsylvania State Archive. But don't that overwhelm you, just start by contacting the county courthouse directly.
👉
Pro Tip:
All marriage licenses are public records and you can access them for anyone (just like property deeds and probate records). Some counties have indexed the records they have and you can search the index from home. See Berks County as an
example here
.
Begin by going to the county website and search for "marriage license." There will be details on how to obtain copies of these records for that particular county. Follow the steps on the website and be sure to email or call them if you need more information.
Conclusion
Finding marriage licenses in Pennsylvania is an essential part of genealogical research. By following the three-step process outlined in this article you can navigate through the various places marriage licenses could be.
Remember to begin by checking the indexed marriage records on platforms like FamilySearch and Ancestry. If you don't find what you're looking for, explore the digitized images on FamilySearch, utilizing the concept of book indexes. Finally, if all else fails, reach out to the county directly, as they are the custodians of these historical records.
With perseverance, you can unlock the hidden stories of your Pennsylvania ancestors through their marriage licenses.
© 2019–2022 PA Ancestors L.L.C. and Denys Allen. All Rights Reserved.