The Ins and Outs of Pennsylvania Voting Records for Genealogy Research
Voting records, also known as voter registration records, can be useful in Pennsylvania genealogical research.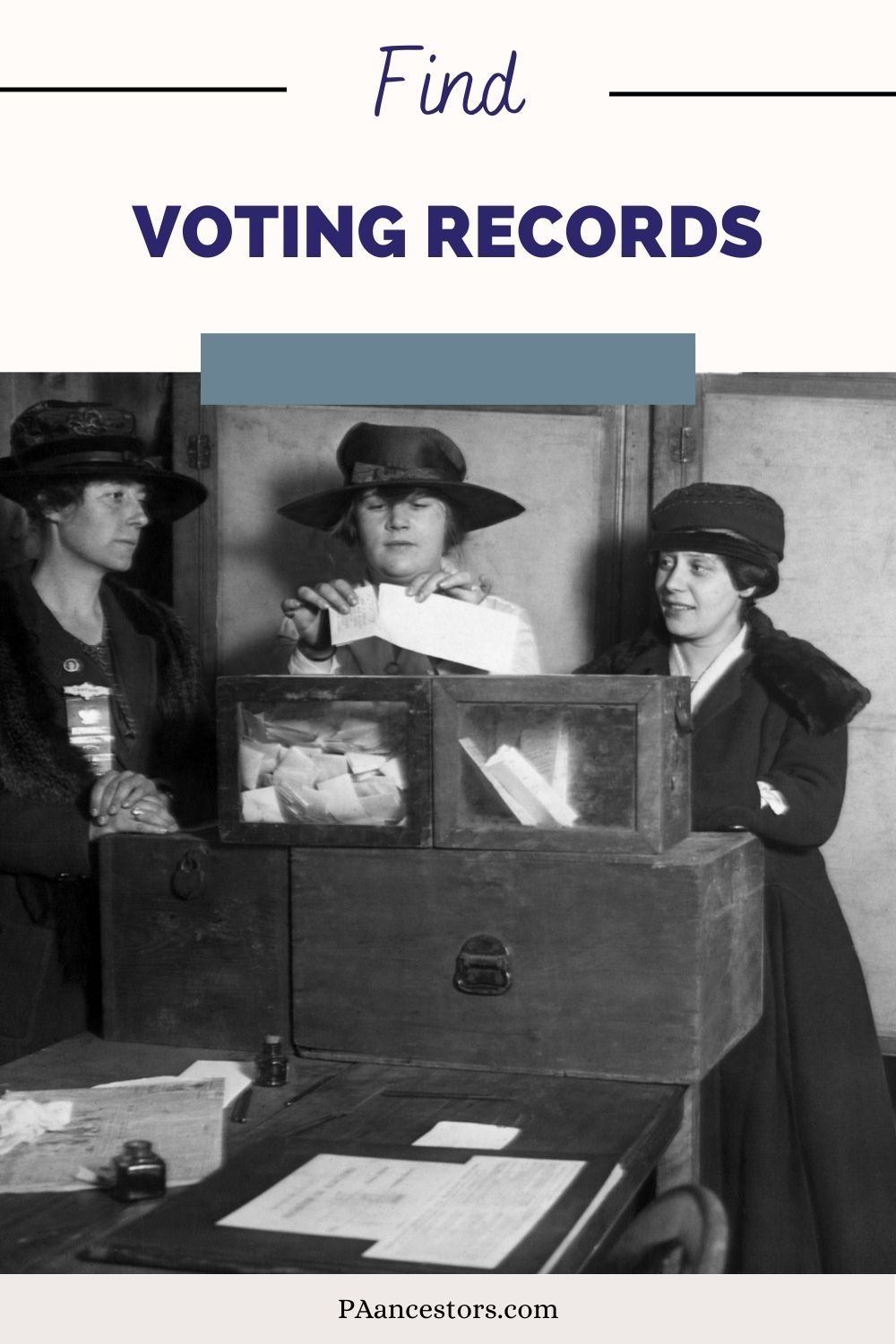 Voting records, also known as voter registration records, can be useful in genealogical research. They provide an ancestor's place of residence for specific years, supplementing census records. In Pennsylvania they are usually called "Voting Registry Lists" or "Voting Check Lists" and are found at the county courthouse.
Who Can Vote in PA?
The first people to vote in PA were males 21 years of age or older, who paid taxes on property in the state. County tax assessors submitted names to the election officials in the county.
The state constitution ratified in 1874 added the qualifications for voters. In addition to property taxes, 1) United States citizen at least one month, 2) resident of Pennsylvania at least one year, and 3) resident of the election district at least two months prior to an election.
In 1937 a major change to the state election code removed the property tax requirement for voter registration. Additionally, the state residency requirement decreased to 90 days, and the voting age lowered from 21 to 18 years old. Newly developed absentee voting began in 1937 to accommodate those in military service.
What is in a Voting Registration Record?
Voting registration records are lists or cards of eligible voters in a county and are public record. The individual voting ballots completed on election day are not public record. In other words, there is no way to know an ancestor's vote for candidates.
Original voting records contain the following information beginning in 1935:
Name
Occupation
Full address
Length of residence in the county (not country)
Former place of residence
Sex
Color (race)
State or territory of birth if in the U.S.
Country of birth if foreign born
Time, place and court where naturalized
Number of naturalization certificate
Political party designation
Affidavit of registration
Height, color of hair and eyes, date of birth
If a federal or state employee
Signature of elector and registrar
Marks for each election person voted
From 1874 – 1934 counties maintained "Registry Lists" of eligible voters. Other names include "Voting Check Lists" or "Ballot Check Lists." These records noted the following information:
Name
Address
Occupations
Political affiliation
Householder or Boarder on the property
Name of employer
Indication of naturalization status and where of voting age and new resident of the district
Prior to 1874, county tax assessors maintained voting registration lists, since being on the voting eligibility list was dependent on tax payments. They contained minimal information such as Name, Location (Township or Borough), and Occupation.
Locating Voting Records
Like most county records, voting records began as registries in ledger books and then moved to index cards in files over the years. Officials discarded these records as they weren't useful after several election cycles. What was saved, is likely deep within storage in its original form at county courthouses or possibly with local historical societies. Check your county of interest and be sure to ask about specific years in your inquiry.
Have you found the voting records for any of your Pennsylvania ancestors? If so, I'd love to hear about it!
© 2019–2022 PA Ancestors L.L.C. and Denys Allen. All Rights Reserved.