Podcast Episode 80: The Pennsylvania Dutch Language with Mark Louden
Learn about what differentiates the Pennsylvania Dutch language from its German cousins. And why PA Dutch is truly an American language.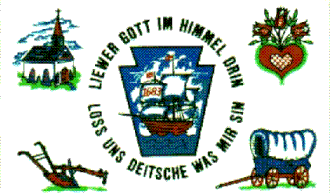 One of the largest ethnic groups in early Pennsylvania spoke German. But today we call their language Pennsylvania Dutch. My guest, Professor of Germanic Linguistics Mark Louden calls Pennsylvania Dutch a truly American language. Learn why he says that and learn a little PA Dutch to share with family and friends.
Links
Pennsylvania Dutch: The Story of an American Language, by Mark L. Louden
Don't miss Mark's website https://padutch.net
Listen to the Audio Podcast
Your Pennsylvania Ancestors is distributed through the following channels:




Learn all about the history and details of the Your Pennsylvania Ancestors podcast.
© 2019–2023 PA Ancestors L.L.C. and Denys Allen. All Rights Reserved.