Podcast Episode 12: Philadelphia Area Consortium of Special Collection Libraries
Philadelphia Area Consortium of Special Collection Libraries, PACSCL, is the umbrella organization for 40 Philadelphia-area archives. Many collections are helpful for Philadelphia genealogy research and listen to hear how to research in the Philadelphia Area Archives Research Portal (PAARP).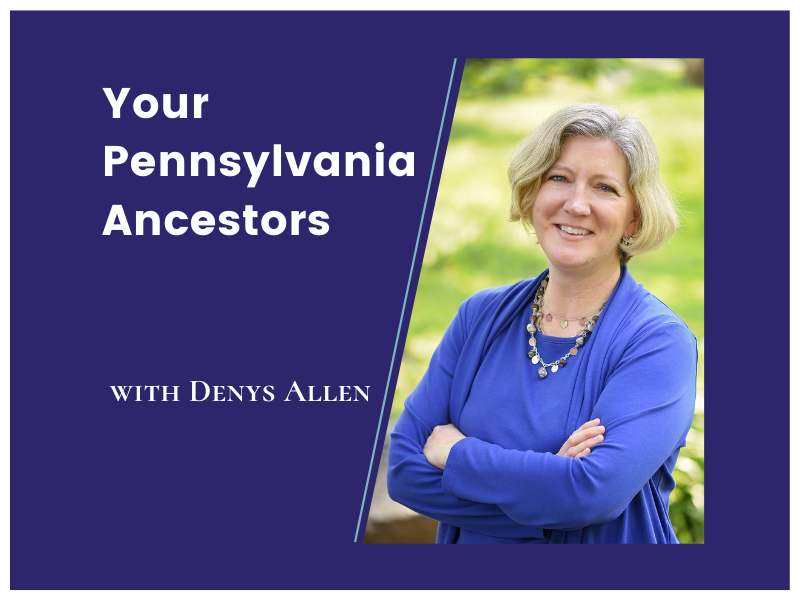 Listen to the Audio Podcast
We are back in Philadelphia, PA to learn about the archival collections in the Philadelphia Area Consortium of Special Collection Libraries, PACSCL. Holly is representing PACSCL and will teach us how to use finding aids and the PACSCL online finding aid website, PAARP.
Topics Discussed
PACSCL is an umbrella organization representing an extraordinary collection held by forty member libraries and archives. (Scroll down to see the list of members.) If your ancestors lived in and around Philadelphia, Pennsylvania, New Jersey, or Delaware, there could be something related to their life in one of these archives.
Searching archival collections is nothing like searching online, and this episode will show you how to shift from "search box searcher" to "archival researcher".
Holly covers:
What PACSCL is and how archives process collections.
What PAARP is and how to search the PAARP website of finding aids.
How to use a finding aid and assess a collection's usefulness to you.
What you won't find on PAARP and how to find it.
Best practices on how to track down all of a person's records in archives.
Why a trip to any archive is fun and worthwhile!
Listen in and learn about what you can find in the archives in and around Philadelphia!
PACSCL Members:
Academy of Natural Sciences, Philadelphia
American Philosophical Society
Athenaeum of Philadelphia
Bryn Mawr College Special Collections
Catholic Historical Research Center of the Archdiocese of Philadelphia
Chester County Archives
Chester County Historical Society
City of Philadelphia, Department of Records, City Archives
Curtis Institute of Music Special Collections and Archives
Drexel University, Archives & Special Collections
Drexel University, College of Medicine, Legacy Center
Franklin and Marshall College
Free Library of Philadelphia
German Society of Pennsylvania
Hagley Museum and Library
Haverford College Quaker & Special Collections
Historical Medical Library of the College of Physicians of Philadelphia
Historical Society of Pennsylvania
Independence Seaport Museum, J. Welles Henderson Archives & Library
Jefferson University, East Falls Campus: Paul J. Gutman Library, Special Collections
LaSalle University Special Collections
Lehigh University Special Collections
Library Company of Philadelphia
National Archives, Mid-Atlantic Region
Pennsylvania Horticultural Society McLean Library
Philadelphia Museum of Art Archives
Presbyterian Historical Society
Princeton University Special Collections Library
Rosenbach Museum & Library
Rowan University Archives and Special Collections
Science History Institute
State Library of Pennsylvania
Swarthmore College
Temple University Libraries Special Collections Research Center
Union League of Philadelphia
United Lutheran Seminary
University of Delaware, Special Collections Department
University of Pennsylvania
Villanova University
Wagner Free Institute of Science
Widener University
William Way LGBT Community Center: John J. Wilcox, Jr. Archives
Winterthur Library
Links
Your Pennsylvania Ancestors is distributed through the following channels:




© 2019–2022 PA Ancestors L.L.C. and Denys Allen. All Rights Reserved.