Pennsylvania Birth Certificates: Key Details for Genealogists
Pennsylvania birth certificates play a vital role in genealogy research. Learn the history, details they contain, and how to access birth certificates, including delayed birth certificates.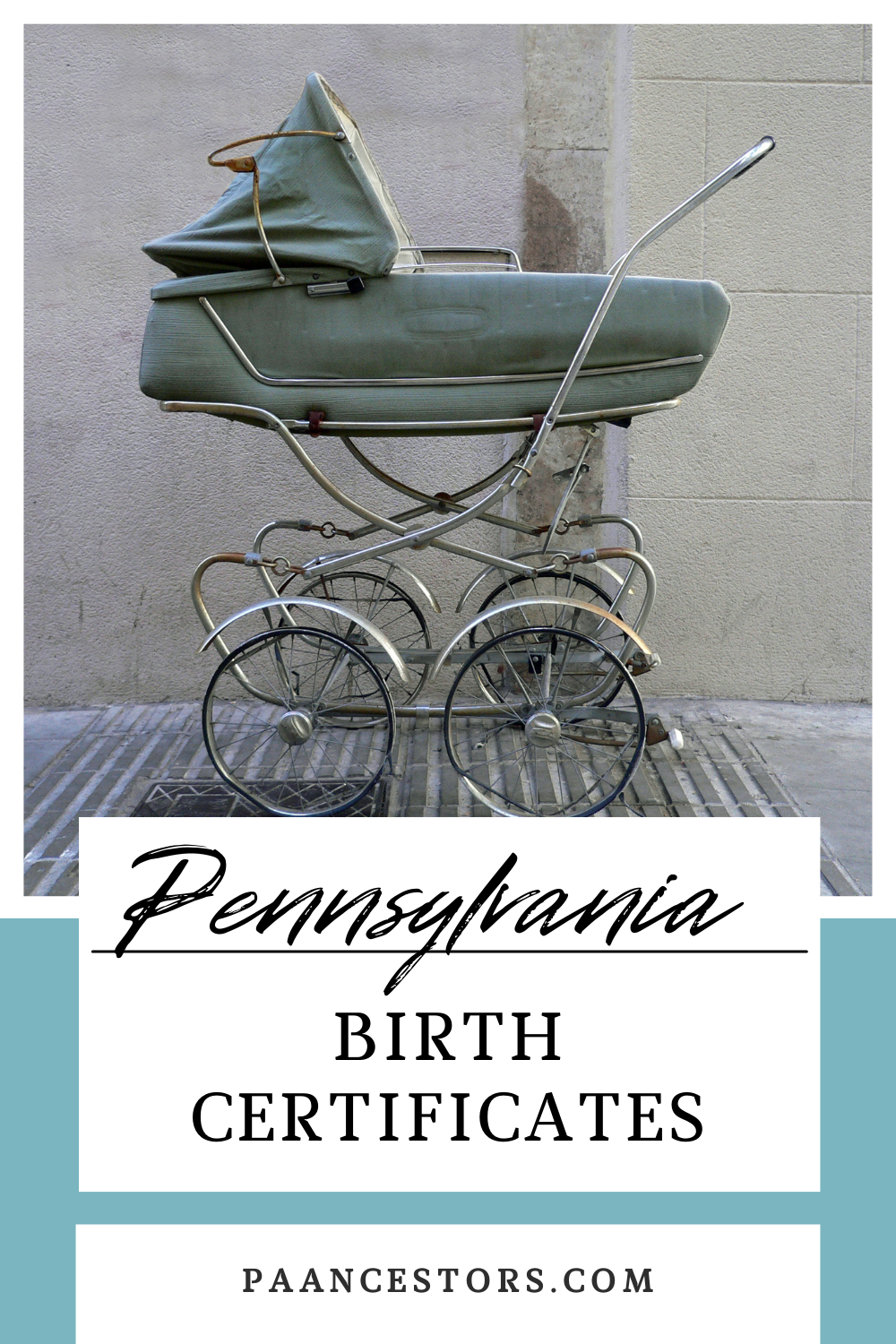 Pennsylvania birth certificates play a vital role in genealogical research, offering valuable insights into our ancestry. From locating long-lost relatives to unraveling family mysteries, these documents provide essential information. But where can you find them? What details do they contain? And how can you obtain copies?
In this article, we will cover the details of Pennsylvania birth certificates. We will walk you through the process of obtaining copies, explore the data you can expect to find on these documents, and reveal the hidden gem of a unique kind of birth certificate that can help enrich your family history research.
The Evolution of Birth Certificates in Pennsylvania
In Pennsylvania, birth certificates have been issued by the state government since 1906, alongside death certificates. These vital records are managed by the Pennsylvania Department of Health (DOH).
The DOH's primary objective in introducing birth certificates was to collect vital statistics and assess public health. Over time, birth certificates became essential for various purposes, including school registration, proving US citizenship, and obtaining social security benefits and employment.
Purpose and Importance of Birth Certificates
Birth certificates play a crucial role in society today.
They are not only necessary for personal identification but also serve as a basis for various official processes. Individuals require birth certificates to register for a social security number, obtain a driver's license or state identification card, apply for a US passport, enroll in schools, and join the military.
Moreover, birth certificates are instrumental in population projections, aiding in the planning of infrastructure, resource allocation, and public health initiatives.
Information Collected on Birth Certificates
Over time, birth certificates have evolved from simple forms to comprehensive documents. Today, publicly available birth certificates in Pennsylvania contain several key pieces of information, including:
Place of Birth (County, Township, Borough, or City)
Full Name of Child
Color/Race
Sex
Twin, Triplet, or Other
Number in Order of Birth
Legitimacy
Date of Birth
Father's Full Name, Residence, Color/Race, Age, Birthplace, Occupation
Mother's Full Maiden Name, Residence, Color/Race, Age, Birthplace, Occupation
Number of Child of This Mother
Number of Children of This Mother Still Alive
Physician Name/Signature, Address, and Date
Registrar Name and Date
It's worth noting that Pennsylvania state law previously assumed the spouse or partner of the birth mother as the father, but modern DNA testing has since debunked this assumption.
Delayed Birth Certificates
In certain cases, individuals may have filed for a delayed birth certificate if they lacked a state birth certificate, a county or city birth registration, or church record showing their birth date.
Delayed birth certificates were introduced in 1939 when the federal Social Security program required proof of age for retirement benefits. These certificates could be obtained through application, providing detailed information about the individual's birth, parents, and other relevant details.
The depth of information collected on delayed birth certificates often exceeds that of standard infant birth certificates, making them valuable resources for genealogists.
The Process of Completing Birth Certificates
Birth certificates are initiated by the attending physician or midwife, who records the date, time, and place of birth.
The remaining information, including the child's name, parents' names and birthplaces, and home address, is provided by an informant. The preferred informant is the mother, but if she is unavailable, the father or another relative may provide the necessary details. The informant must sign the birth certificate, verifying the accuracy of the information provided.
Parents typically receive a copy of the birth certificate several weeks after the birth, with the option to correct any spelling errors within the first year. After this period, spelling corrections are treated as name changes and must be processed through the local county Prothonotary at the courthouse.
Accessing Birth Certificates
Access to birth certificates in Pennsylvania depends on their age.
Birth certificates issued within the last 105 years are solely available to the individual named on the certificate or immediate family members acting in a parental or guardian capacity. Certified copies of these birth certificates can be obtained by submitting a request directly to the Pennsylvania Department of Health (DOH), following the guidelines outlined on their official website, www.health.pa.gov.
Birth certificates that are over 105 years old become public records. The DOH transfers these original birth certificates to the Pennsylvania State Archives annually. The schedule for public birth certificates for the next five years is as follows:
Births prior to December 31, 1916: Publicly available from January 1, 2022
Births prior to December 31, 1917: Publicly available from January 1, 2023
Births prior to December 31, 1918: Publicly available from January 1, 2024
Births prior to December 31, 1919: Publicly available from January 1, 2025
Births prior to December 31, 1920: Publicly available from January 1, 2026
Once transferred to the Pennsylvania State Archives, the birth certificates are digitized by Ancestry employees who subsequently index them in the "Pennsylvania Birth Certificates" collection. This database is available at www.ancestry.com/search/collections/60484.
It's important to note that the digitization and indexing process may take years to complete. Researchers can also directly contact the PA State Archives for access to publicly available birth certificates. While the digital records on Ancestry are convenient, they are not the sole means of obtaining these documents.
Delayed Birth Certificates
For delayed birth certificates filed between 1941 and 1975, a significant number of applications still remain in county courthouses. Approximately half of Pennsylvania's sixty-seven counties have microfilmed and digitized these records, which can be accessed on FamilySearch at www.familysearch.org/search/collection/3743274.
County-filed delayed birth certificates not available through FamilySearch can be found in the Orphans' Court records. Pennsylvania residents were allowed to apply to any county Orphans' Court, and starting in 1941, they could also apply directly to the DOH.
Conclusion
Pennsylvania birth certificates are invaluable resources for genealogists seeking to uncover their family history.
These documents, managed by the Pennsylvania Department of Health, provide essential information about individuals' births, their parents, and other relevant details. While access to recent birth certificates is restricted, older certificates eventually become public records, transferring to the Pennsylvania State Archives.
Genealogists can access these records through various channels, including the Ancestry database and county courthouses. By utilizing birth certificates, genealogists can piece together their family tree and gain a deeper understanding of their roots.
© 2019–2023 PA Ancestors L.L.C. and Denys Allen. All Rights Reserved.