Misinformation on FindaGrave Can Ruin Your Family History
Genealogy websites have been flooded with misinformation over the years. What started off as a small problem a decade ago is now a huge one. Anyone with an account can add any information they want to the profiles and family trees they create. This misinformation problem is most evident on FindaGra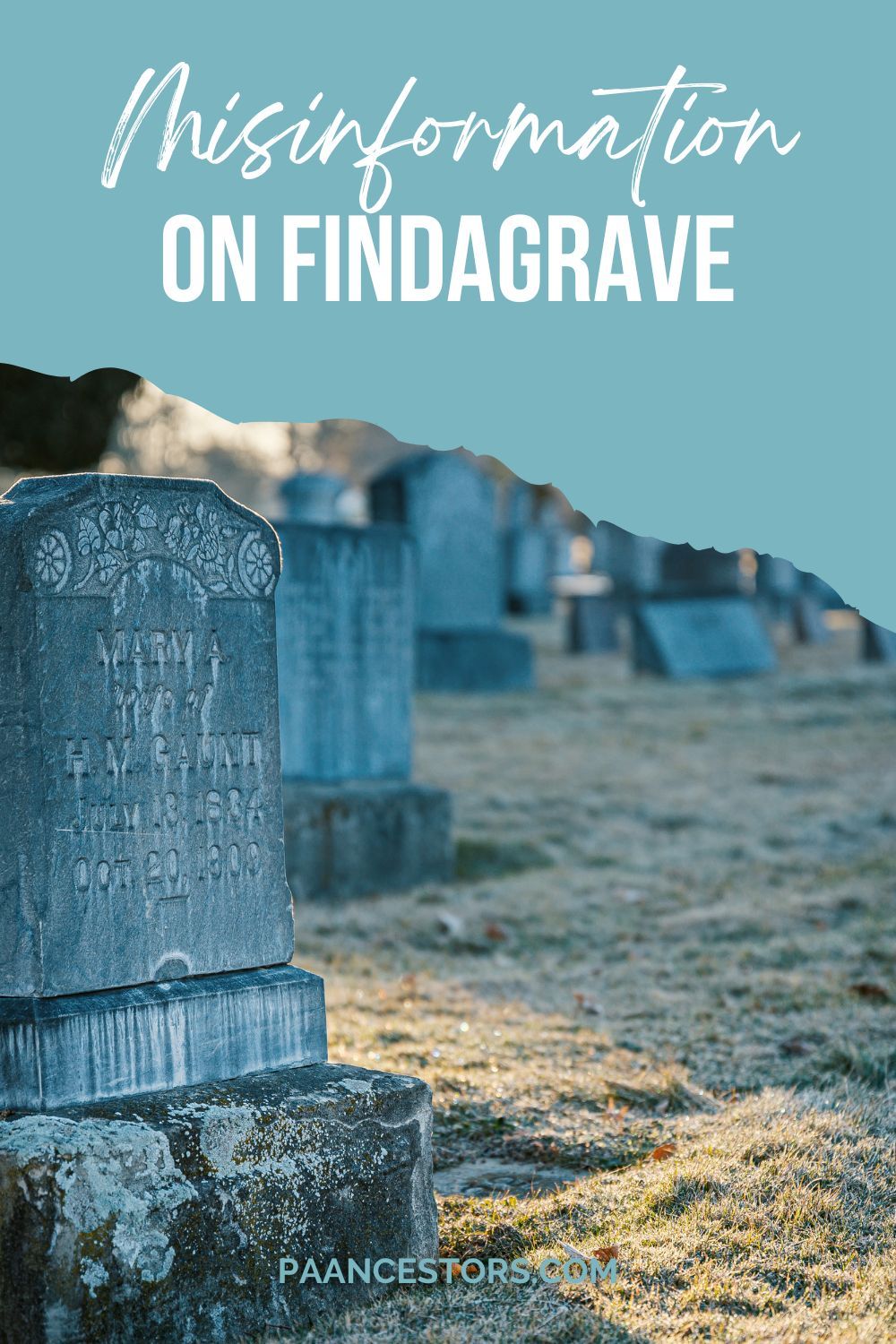 Genealogy websites have been flooded with misinformation over the years.
What started off as a small problem a decade ago is now a huge one. Anyone with an account can add any information they want to the profiles and family trees they create. This misinformation problem is most evident on FindaGrave.
Over the years thousands of people have created memorials on FindaGrave. The majority of these memorials have names and dates only. There is no photo of a gravestone or other proof of the burial occurring in that cemetery. These empty memorials are really misinformation memorials.
These misinformation memorials are created by a genealogist hoping an ancestor was buried in a particular cemetery. The genealogist wants someone local to go to the cemetery and look for a gravestone and take a photo. But a photo can't be taken if the person wasn't buried there or if they didn't get a gravestone.
But the genealogist who creates this misinformation memorial leaves it up. Months or years later, another genealogist sees the memorial on FindaGrave and uses it as proof of a burial location, not realizing the original intent of the memorial as a search request. The misinformation memorial is now fact.
Is FindaGrave now useless for genealogists? Not entirely, but I personally eye it with great suspicion.
How to Find Burial Information
Here's how I find burial information without relying on FindAGrave. (This is also how I verify what is on FindAGrave.)
Every formal cemetery has three different records: 1) burial plot books, 2) internment records, and 3) grave markers. I say "formal cemetery" because our earliest ancestors were buried very informally because there weren't laws regulating burials then. What is explained here is most useful for burials from the mid-19th century until today.
Burial Plot Books for Cemeteries
Think of burial plot books like deed books for real estate. Cemeteries recorded who purchased each burial plot, assigning each plot a name and number. Here's a photo of a cemetery manager pointing on their burial plot map the name of the burial plot owner I was looking for - Horace Wilmer.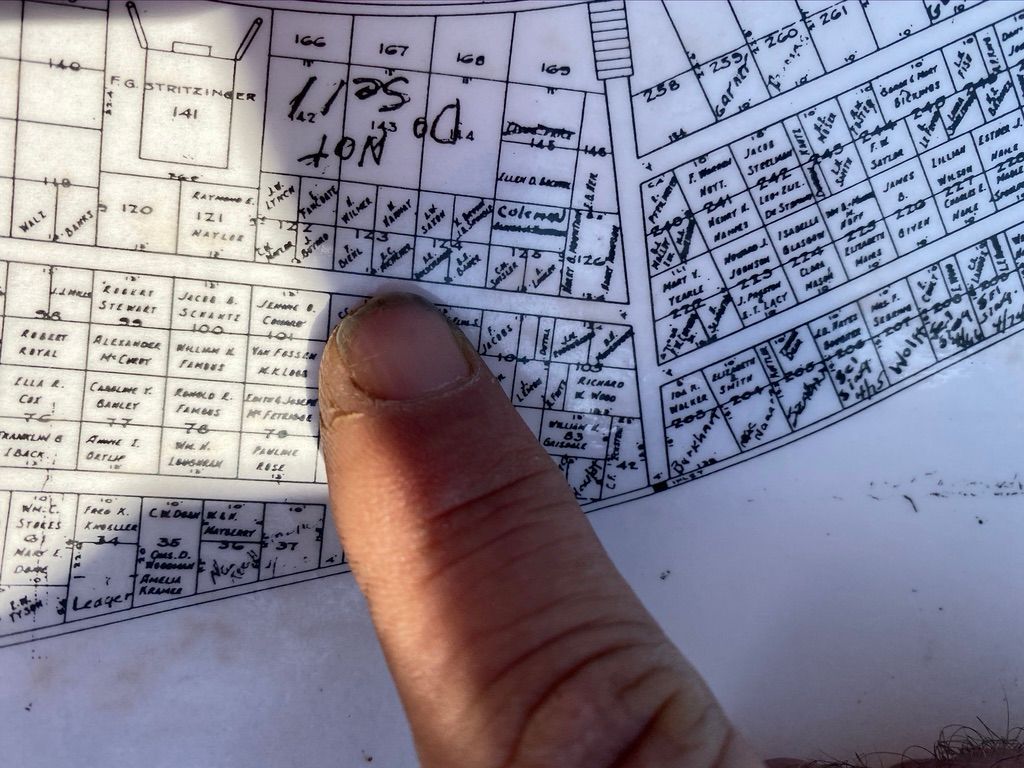 The listed owners of a burial plot could be one person or a married couple. It's very likely the person who purchased a plot is buried in it, but it needs to be verified with the interment records.
Interment Records for Cemeteries
Interment records list who is buried in each specific burial plot. For example, this photo shows who is buried in the burial plot owned by Horace Wilmer. This cemetery also kept records for each burial, likely noting the date of the burial and any requirements for the laying of the coffin, the headstone, or if there was a graveside service.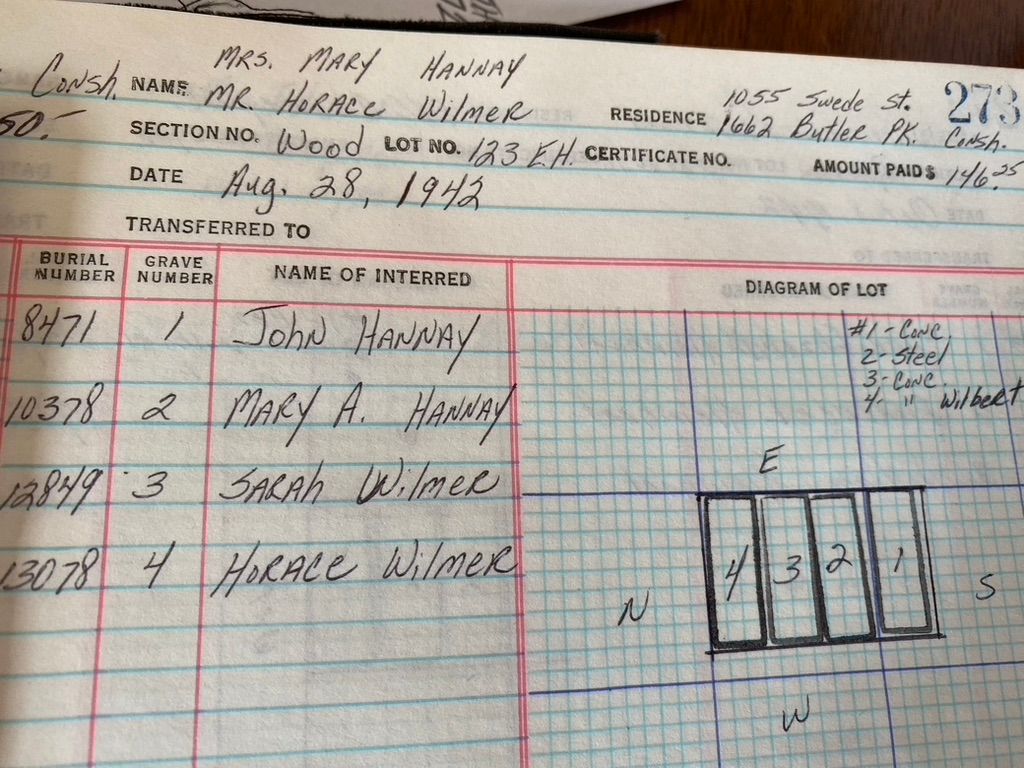 Sometimes interment records list more people than there are burial spaces, particularly before the 20th century. It was common for children under 3 years old to be counted as half of a burial space since their coffins were so small. A careful read of interment records will find many of the spaces are young children.
Grave Markers in Cemeteries
The grave marker in a cemetery could be a stone in granite or marble, or a bronze plaque flat on the ground. Or possibly, there is no grave marker at all. In the example I've provided so far, that is what happened with Horace Wilmer. The only way to locate his burial place it by the records of the cemetery office. I put a photo of the interment record on FindaGrave instead of a grave marker.
If there is a grave marker, taking a high quality photo and putting it on FindaGrave will verify the burial for future generations. Be sure to take at least two photos: one from about 10 feet away so the grave can see among the others, and one photo close up to see the details of the engraving.
Verifying information found on genealogy websites is the only way to counter the flood of misinformation out there. Every family historian can do their part and help create accurate records for everyone.
© 2019–2022 PA Ancestors L.L.C. and Denys Allen. All Rights Reserved.