Is FindMyPast Useful for Pennsylvania Genealogy Research?
FindMyPast has some unique record collections for Pennsylvania genealogy research, including the Philadelphia Archdiocese Roman Catholic church records. Learn what genealogy records are offered and how to access them.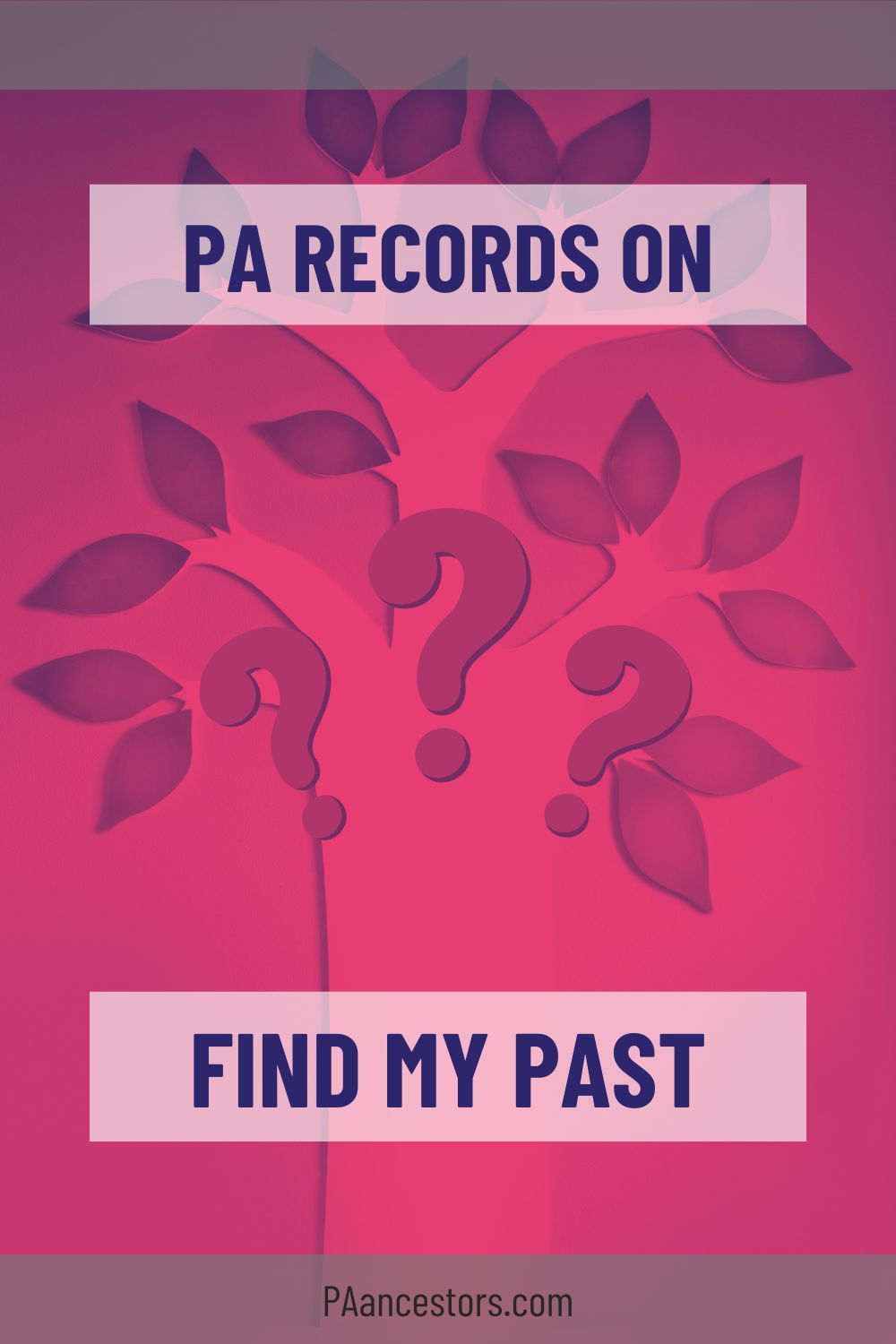 Most family historians know FindMyPast (also known as FindmyPast.com) as a genealogy website with British, Irish, and Scottish records.
If you are focused on researching your Pennsylvania ancestors, is FindmyPast useful for your research? It very well could be! FindmyPast has some unique collections not found anywhere else that are very helpful for Pennsylvania genealogy research.
In this article, I'll explain what Pennsylvania records FindmyPast hosts on their website and how to access them.
What is FindmyPast?
Findmypast.com is a genealogy website that provides access to a wide range of historical records and resources for family history research. The platform is designed to help individuals discover their ancestors, build family trees, and delve into their past.
The website hosts an extensive collection of records from many countries, including birth, marriage, and death records, census records, military records, immigration and travel records, parish records, newspapers, and more. These records range from the colonial period to the 20th century and provide valuable information for tracing your ancestors.
In addition to record collections, FindmyPast also offers powerful search functionality that allows you to explore their records by entering details about your ancestors, such as names, dates, and locations. The website also employs advanced matching technology to suggest potential record matches and identify individuals within your family tree.
FindmyPast is a subscription-based website and offers different subscription tiers and pricing options to suit various research needs.
It's important to note that while FindmyPast primarily focuses on records from the United Kingdom and Ireland, it also includes collections from other countries around the world, and an exclusive collection of Pennsylvania records.
Overview of Pennsylvania Genealogy Records Available on FindmyPast
FindmyPast's collections are designed in a similar format to the other major genealogy websites. The search tools are powerful, allowing you to easily search for records based on a variety of criteria, including name, location, and dates. Additionally, the records themselves are well-indexed and allow for surname variations automatically, which means you can find the information you need quickly and easily.
One of the key features of Findmypast's Pennsylvania collection is the ability to search multiple records at once. For example, if you're looking for information about your ancestor's birth, you can search for birth records, baptism records, and census records all at once. This not only saves time, but it also ensures that you don't miss any important information.
The main difference in functionality of FindmyPast is you must choose whether to view the transcript or the image in your search results. You can not see both the image and the transcript at the same time in your browser window. Genealogists always want to view and keep a copy of the image, so be sure to save copies of both the image and transcript for your records.
Some of the most valuable records available on Findmypast include church and cemetery records, land and property deeds, and naturalization records.
Key Collections of FindmyPast's Pennsylvania Genealogy Records
FindmyPast's Pennsylvania collection is not large, but it includes some unique and hard-to-find records.
Philadelphia Roman Catholic Records
These records from the Philadelphia Archdiocese include Bucks, Chester, Delaware, and Montgomery counties from about 1875 (some earlier) and Philadelphia back to 1808. There are databases of Philadelphia Parish Baptisms, Philadelphia Parish Marriages, and Philadelphia Parish Registers. While these databases are titled "Philadelphia" it refers to all five counties in the Archdiocese and included millions of records. These are free to access without a subscription.
Records from the Historical Society of Pennsylvania
This collection is divided into three databases: Births & Baptisms, Congregational Records, and Marriages. These records are digitized microfilms within the collection on Ancestry entitled Pennsylvania Church and Town Records. Of course the indexing of the records is different on FindmyPast, so searching here may lead to different results compared to Ancestry.
Baptisms from Christ Church in Philadelphia
FindmyPast collection Pennsylvania Baptisms, 1709-1760 has just the baptisms from Christ Church in Philadelphia. The title of the collection leads the reader to believe it is a large collection, and perhaps one day it will be. Right now, it is just the one church.
Various County Courthouse Records from Chester, Delaware, and York Counties
The counties of Chester, Delaware, and York in Pennsylvania each have their own indexes they have created of their county government records. Copies of these indexes appear on FindMyPast as "transcriptions", but access to the original records and indexes are available on each county's website.
Tips for Conducting Effective Genealogy Research on Findmypast
To make the most of what FindmyPast has for Pennsylvania records, it's important to approach your research systematically.
Before you begin, make a list of the information you already know about your ancestors, including names, dates of birth, and locations. Then state your research question, and the type of records that could answer your question. This will help you focus your search and ensure that you are not clicking around the website for hours.
Additionally, it's important to use a variety of search criteria when conducting your research. For example, you may want to search for records using your ancestor's name, but you should also search for records based on location, occupation, or family relationships. This will help you find records that have been mis-indexed by surname, or new-to-you record sets to help your research..
Other Resources for Pennsylvania Genealogy Research
While FindmyPast offers some Pennsylvania genealogy records, it's not the only resource available. Other valuable resources for Pennsylvania genealogy research include the Pennsylvania State Archives, the Historical Society of Pennsylvania, and local genealogical societies.
It is also important to connect with other genealogy researchers who may have information or insights that can help you in your research. Facebook groups can be valuable resources for connecting with other researchers and sharing information.
Conclusion and Next Steps for Utilizing Findmypast's Genealogy Records
While FindMyPast offers billions of records for genealogy research, the unique collections for Pennsylvania research are limited. Be aware of what the website offers and how it can help your research before committing to a year-long subscription.
© 2019–2023 PA Ancestors L.L.C. and Denys Allen. All Rights Reserved.