Successful Genealogy Research Requests by Mail
It's not always possible to do genealogy research yourself at a repository. Most archives have a process to request research through mail or email for a small fee. How do you make the most of that genealogy research requests by mail?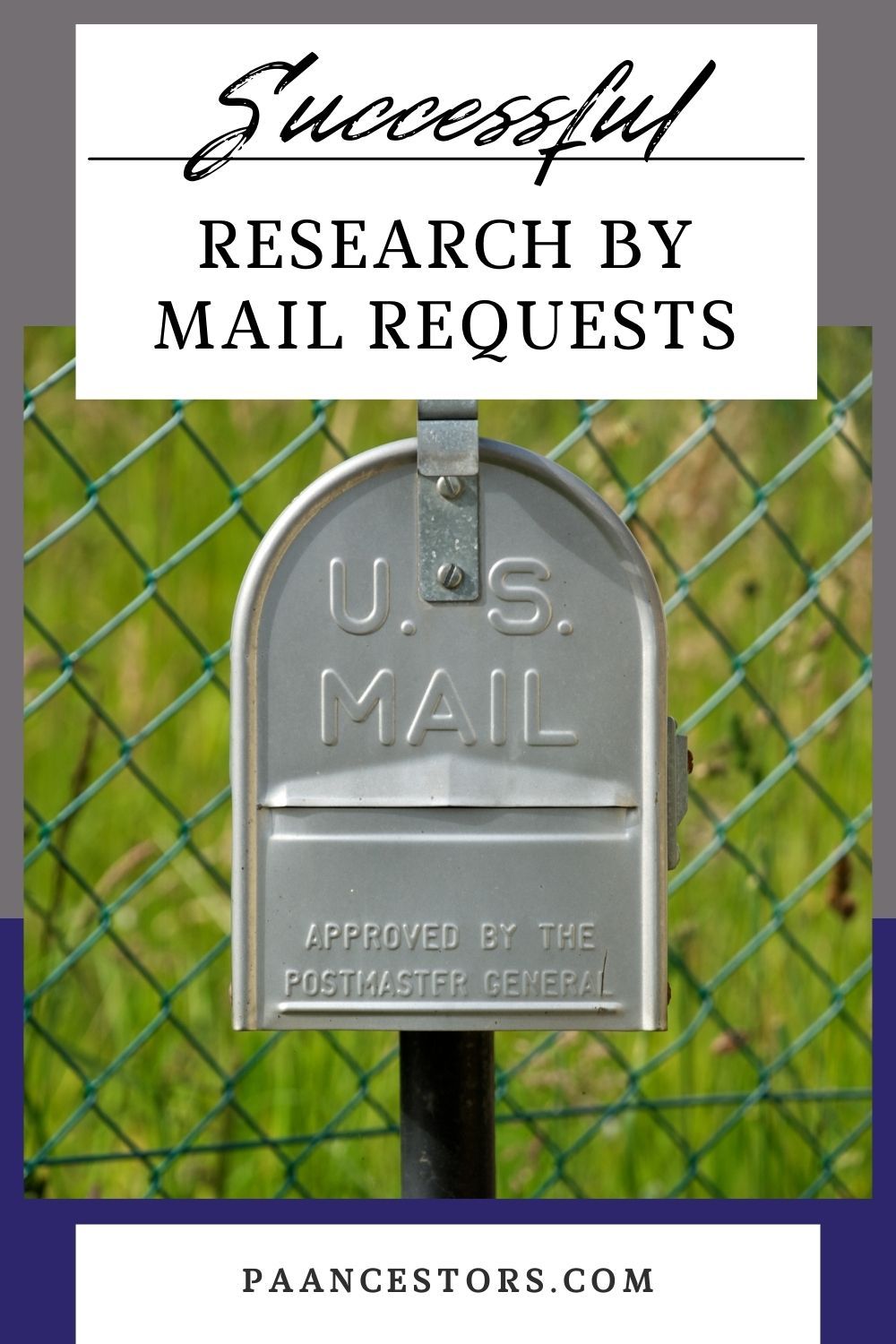 Genealogy research in-person can be a rewarding and a fun reason for travel.
However, not everyone has the time, opportunity, or resources to visit archives in person. Fortunately, many archives now offer a convenient option for remote research requests through the mail or email.
But how do you ensure that your genealogy research requests are successful and yield the information you need?
In this article, I will explore some tips and strategies for making the most of your genealogy research requests through the mail, including how to craft effective requests, what to include in your correspondence, and how to complete the request form to maximize your chances of success.
What Does Success Look Like for Genealogy Research Requests?
Success in genealogy research requests means you have an answer that shows either the record you want exists or the record does not exist. That is the goal for a genealogy research request: confirm the existence of a record (or not) and get a copy of the record. Genealogy research is about retrieving records first, then examining them for evidence of relationships. Successful requests do not guarantee results such as finding an elusive ancestor or proving a long-lost relationship.
Write Your Research Question
As a genealogist, you have questions like this you are trying to answer:
Was Mary Jones the daughter of Elizabeth Jones?
Is Mary Jones the wife of John Smith?
Who are the parents of John Smith?
Question like these require a lot of research! Why? Because they are very broad and do not name time period or specific location. An archive or genealogical society who receives a question like these will not be able to answer it well, if at all.
Take ten minutes and write a research question that takes in account the time and place the individuals lived. You want to make sure you distinguish your Mary Jones from other Mary Jones alive at the same time. If you don't have exact dates be sure to include years in a range. If you don't have an exact place, you will need to focus in on one county in Pennsylvania, preferably the township or city in the county.
Here's the questions revised to include a time and place:
Was Mary Jones, born between 1820–1825 in Plymouth Township, Montgomery County, the daughter of Elizabeth Jones, born 1790–1798 in same place?
Is Mary Jones, born between 1820–1825 in Plymouth Township, Montgomery County and died 1873 in the same place, the wife of John Smith, born 1822 in England and died 1864 in the Civil War?
Who are the parents of John Smith, born 1822 in England and died 1864 in the Civil War?
A request to any archive, genealogical or historical society, or library, is a request for someone there to look at their on-site records, and make a copy of records and send you that copy. They are not staffed to do anything other than pull records and make copies. If you give them a big research question such as "send me everything you have on Jones baptisms", you will end up disappointed.
It might be helpful to write a complete research plan as you are crafting your genealogy research question. I have three steps I follow and I detail them in this article Three Steps in Making a Genealogy Research Plan.
Refine Your Research Request
When you sending in a request to an archive to "research by mail," you are really sending in a request for a "look at record on paper, microfilm, or in a book and send a copy back by mail."
In fact you could pretend you are actually doing a research trip to that archive. If you were going there, what records would you look at first? Second? Third? You will get some ideas on how to plan and do a research trip in my article
Take a look at your big research question, and break down what records would help answer that question. Remember: records are created in time and place. The records available for 1920 Forest County, Pennsylvania are not the same kind of records as 1750 Philadelphia. You need to think and communicate in the time and place of your ancestors.
Here's some ways to turn the research questions above into specific records requests:
Baptismal record for Mary Jones, born between 1820–1825 in Plymouth Township, Montgomery County.
Church record of a marriage between Mary Jones and John Smith in a Methodist church or Episcopal church, between 1815 – 1850.
Copy of the Union troops Civil War Pension file from the National Archives in D.C.
Now you have some specific records that you want. What's next?
Check the Repository or Archives Catalog
Every archive, genealogical or historical society, or library has a website. Examine the catalog, finding aids, and listing of materials to determine if they have the records you need. Do they have the type of records you want? For the right time period? In the right place?
If you've already done the work above in thinking in terms of time and place of your ancestors, then your work here is to match your needs to what the repository has. If you aren't finding what you want, contact other genealogy researchers to ask advice or email the local genealogical society in that county.
As you complete the research request form, make sure to list these specific record sets you want searched.
Pro tip: Send the spelling variations you are using for your research. Even a surname with only four letters can be spelled in a variety of ways. The person pulling the records for you might not know of the spelling variations you are using. Never assume!
Back to the examples above, here are some specific record sets:
Make a list of the churches operating in Plymouth Township, Montgomery County and within 10 miles of it, during 1800–1860. Prioritize Methodist and Episcopal, then work through the others.
Civil War widows could apply for a pension. Even unsuccessful application were kept. Use the index on Fold3 to find the file number and submit request through archives.gov.
John Smith may have had an estate probated through Montgomery County county courts. Check for an estate, like and intestate through the Orphans Court 1864–1870, and see if Mary is listed as the widow.
Genealogy Research Request Results
Lastly, keep in mind that every repository and archives receives more requests each day than they can answer. It is normal to wait several weeks for a response to genealogy research requests. If you follow the tips in this article, your research request will be successful in letting you know for certain if the records you want exist or not, and you'll receive a copy.
© 2019–2023 PA Ancestors L.L.C. and Denys Allen. All Rights Reserved.