The Importance of Death Certificates for Genealogical Research
Discover how death certificates play a vital role in genealogical research. Learn about the history, purpose, and process of obtaining death certificates in Pennsylvania for your family tree.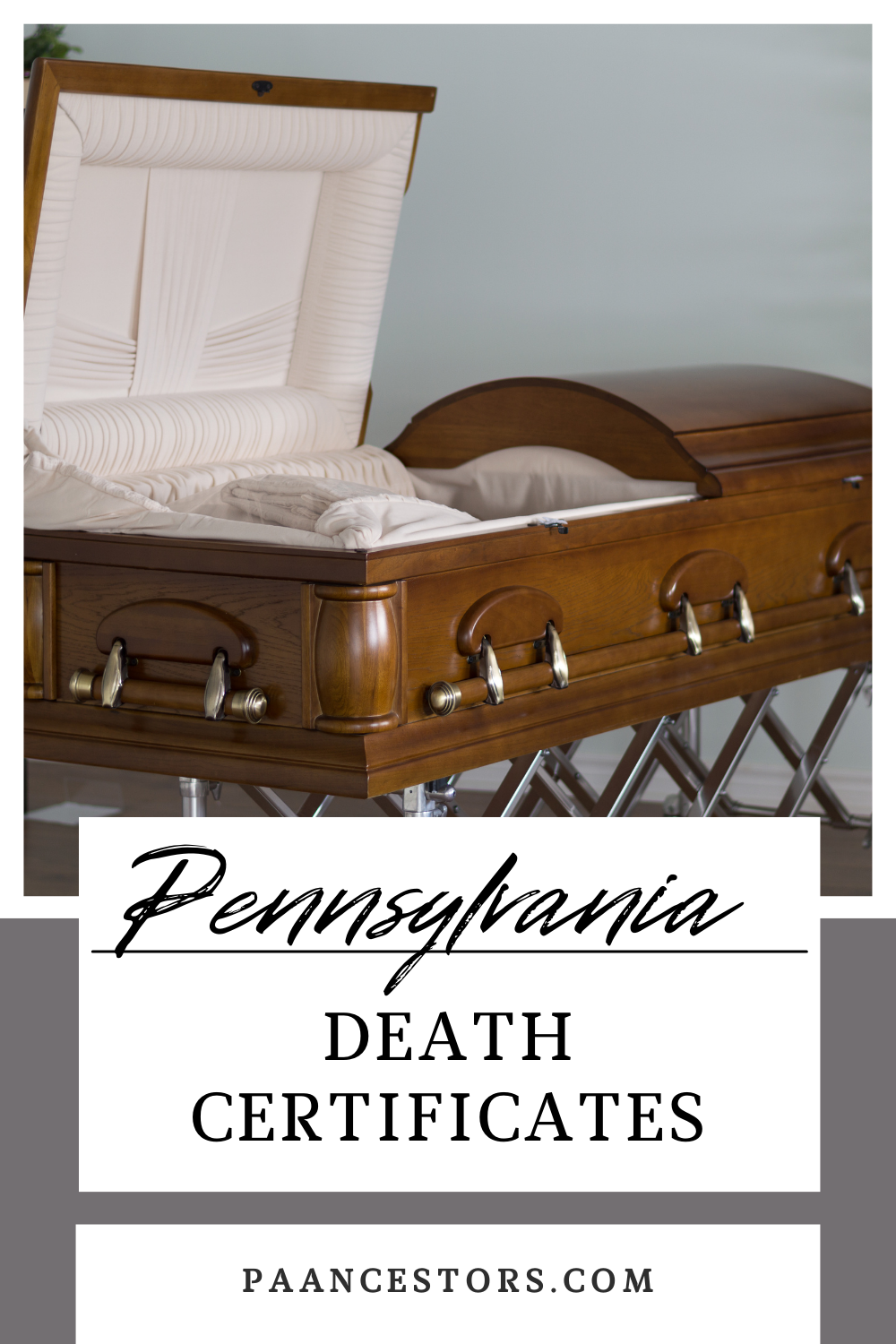 When it comes to tracing our family history, genealogists rely on various sources of information to uncover details about our ancestors.
One crucial document that plays a significant role in this research is the death certificate. Death certificates provide valuable insights into the lives and deaths of our relatives, offering a wealth of information that can help piece together our family tree.
In this article, we will explore the history, purpose, and information collected on death certificates, as well as the process of obtaining them for genealogical research.
The Evolution of Death Certificates
Throughout most of human history, death records primarily focused on burial details. Burial registers maintained by clergy and gravestones marking final resting places were the main sources of information about the deceased.
However, as the industrial age began in England, tracking the causes of death became essential. European governments, followed by the United States, sought to monitor and understand the factors contributing to their citizens' deaths. In 1837, Britain became the first country to implement civil recording of deaths, marking a significant milestone in the history of death certificates.
In Pennsylvania, the Department of Health (DOH) was established in 1905, leading to the introduction of death certificates in 1906. These state-issued certificates aimed to standardize the recording of deaths and were made mandatory for every individual who died within the state's borders, even if the person was unidentified. However, it took time for full compliance with the new system, particularly in rural areas and among economically disadvantaged communities.
The Purpose of Death Certificates
Death certificates serve multiple purposes for both the government and families. From a governmental perspective, death certificates are crucial for vital statistics, public health monitoring, disease awareness, and population counting.
For families, death certificates initiate the distribution of the deceased's estate, insurance claims, and death benefits. While death certificates are invaluable for genealogical research, it's important to note that they were not initially intended for this purpose.
In addition to these purposes, death certificates are also required for burial or cremation. Funeral homes and cemeteries rely on death certificates to fulfill their legal obligations.
Furthermore, death certificates play a vital role in probate proceedings, Social Security Death Benefits, life insurance claims, and employer pension packages. In cases where a death is considered suspicious or unnatural, death certificates issued by coroners or medical examiners indicate that an investigation was conducted.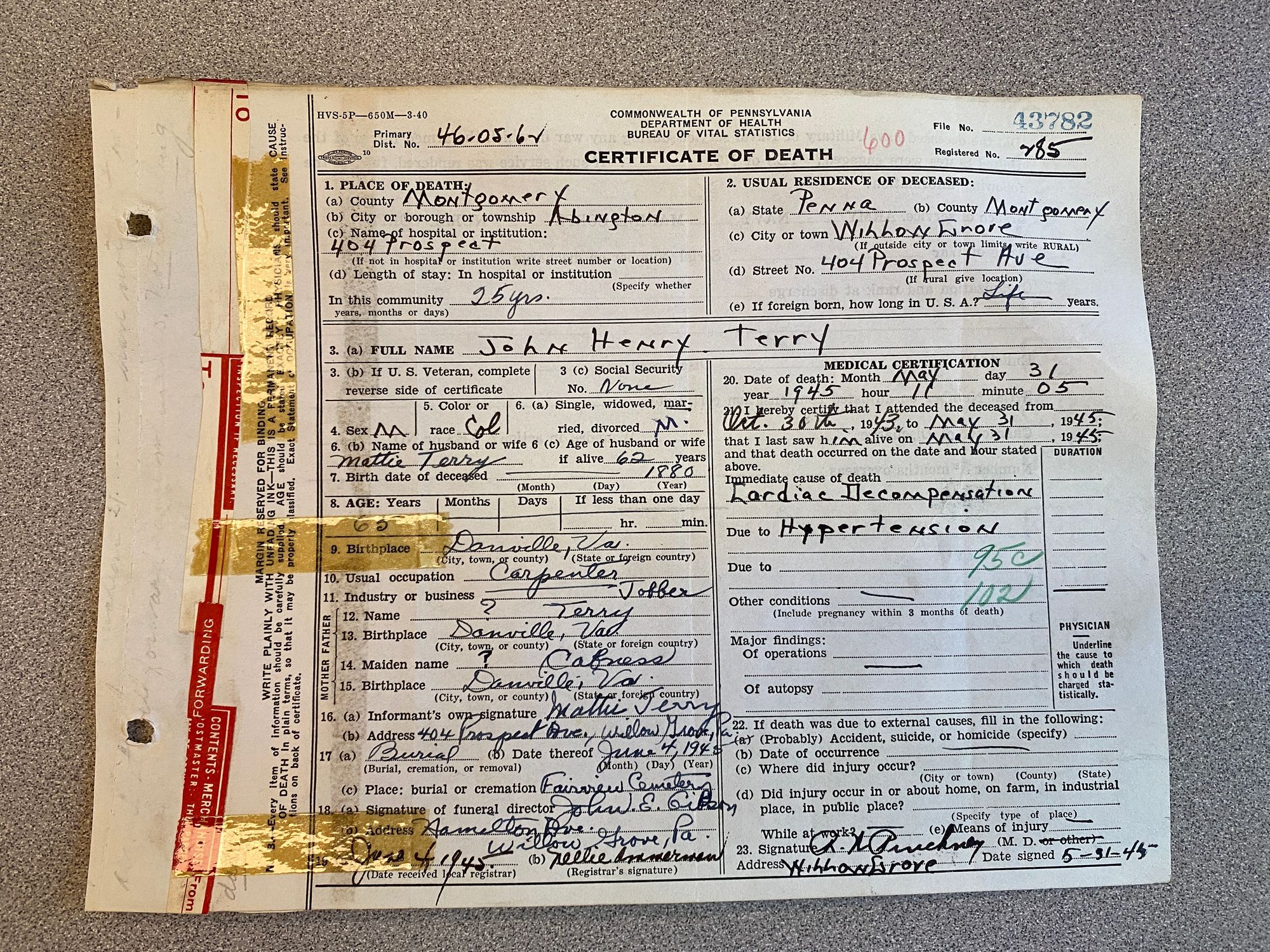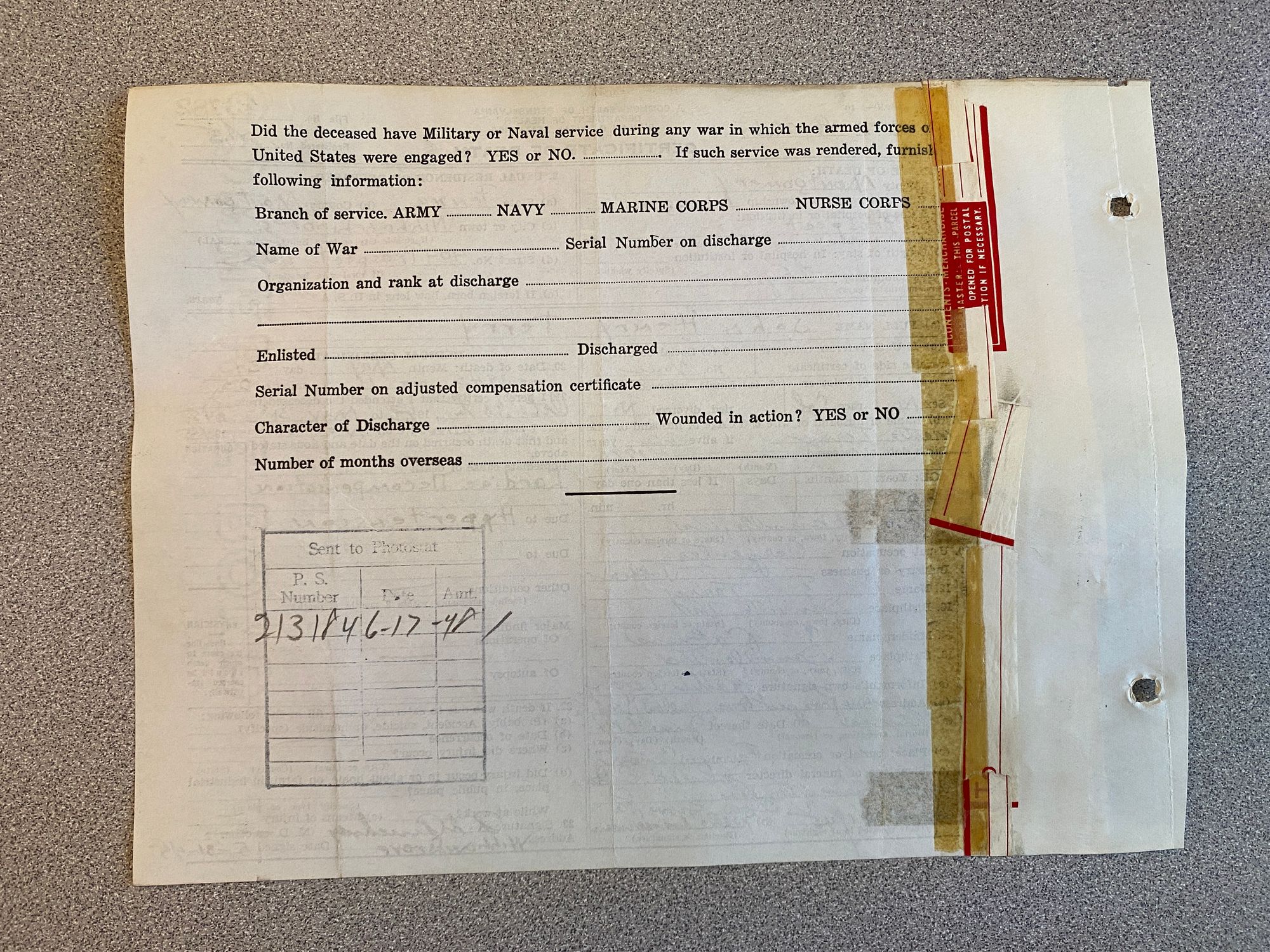 Information Collected on Death Certificates
Over the years, the format and fields included on death certificates have evolved. The following is a list of the information typically collected on death certificates starting from 1906:
Registration District and Area
Place of Death (County, Township/Borough/City, Street, and Ward)
Length of Residence in the City or Town Where Death Occurred
If Death Occurred in a Hospital or Institution, Length of Stay
Usual Residence of the Deceased
If the Deceased Was Foreign-Born, How Long in the US or Citizen of What Country
Full Name of the Deceased
If the Deceased Was a US Veteran or in the US Armed Forces
Social Security Number
Sex and Race
Date and Place of Birth
Age at Death
Marital Status and Spouse's Name
Parental Information (Names, Birthplaces, and Maiden Name of Mother)
Occupation and Industry of Work
Date of Last Work and Total Time Spent in Occupation
Informant Signature and Address
Date and Time of Death
Certification of Attending Physician or Medical Examiner
Cause of Death and Contributory Causes
Findings of Operation or Autopsy
Details of External Causes (if applicable)
Burial, Removal, or Cremation Information
Undertaker or Funeral Home Information
Registrar Signature and Date
It's important to note that the specific fields and format may vary slightly depending on the year.
The Significance of Death Certificate Codes
Every death certificate includes numerical or numerical/alphabetical codes in the "cause of death" section. These codes refer to the International Classification of Diseases (ICD) database, which categorizes causes of death. The ICD codes were established in France in the late 1800s and have been widely adopted worldwide. They aid in compiling vital statistics and facilitate the categorization and counting of deaths based on causes.
Researchers and genealogists can refer to these codes to understand the cause of death when the handwritten text is illegible or difficult to decipher. However, it's important to use the ICD code list that corresponds to the year of the death certificate to ensure accurate interpretation. A transcribed list of historical ICD codes can be found at www.wolfbane.com/icd.
Accessing Death Certificates in Pennsylvania
Accessing death certificates in Pennsylvania depends on the date of death. Recent death certificates, issued within the last fifty years, are restricted to immediate family members. However, death certificates older than fifty-one years are considered public records and available to anyone without restrictions.
To obtain certified copies of recent death certificates, immediate family members can request them directly from the Pennsylvania Department of Health (DOH) through their website. The DOH provides information on ordering procedures, pricing, and any specific requirements.
For death certificates older than fifty-one years, the original documents are transferred from the DOH offices to the Pennsylvania State Archives. Each year, a new batch of certificates becomes publicly available. Researchers can access these original certificates at the State Archives in Harrisburg, Pennsylvania. Ancestry.com also provides digital access to Pennsylvania death certificates with ongoing efforts to digitize and index additional years.
Conclusion
Death certificates are invaluable resources for genealogical research, providing a wealth of information about our ancestors' lives and deaths.  By utilizing death certificates effectively, genealogists can piece together the puzzle of their family's past and gain a deeper understanding of their roots.
© 2019–2023 PA Ancestors L.L.C. and Denys Allen. All Rights Reserved.