How a Deed Can Build Your Family Tree
If you're tracing your ancestors or the history of a home In Pennsylvania, particularly in the 18th century, you'll want to find and transcribe the real estate deeds you find. Here's how to do it.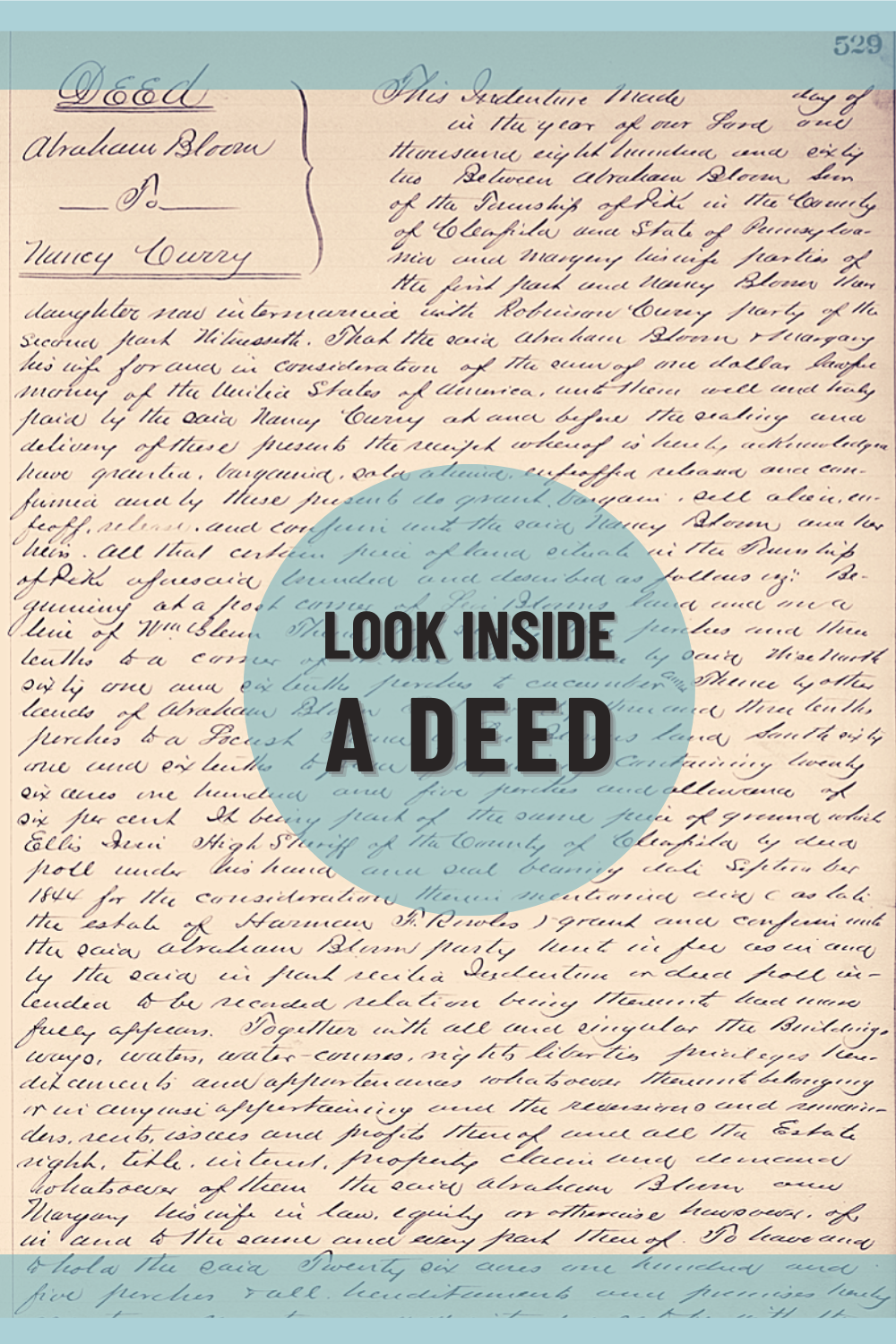 If you're tracing your ancestors or the history of a home in Pennsylvania, particularly in the 18th century, you'll want to be sure to transcribe the deeds you find.
Real estate deeds, also called property deeds, go back as far as the county formation date, as early as 1682. The system for recording deeds at the Recorder of Deeds office and the information in deeds have changed little in last 340 years.
Information Found in Deeds
The real estate deed recorded in the office contains the following information:
Date the property was bought and/or sold
Parties involved: buyer (grantee), seller (grantor), spouses, witnesses, and possibly lawyers, court-appointed guardians, or powers-of-attorney.
The occupation and current residence of the buyer and seller.
Location of the property and description of it
Price the property sold for
Date the deed was recorded, which could be days to decades after it transferred owners.
The witnesses who signed the recorded deed in front of the Recorder of Deeds at the courthouse were typically family members of the buyer (grantor).
Many deeds also include information about other family members or parent-child relationships.
This information can help build out or verify your family trees.
Transcribe the Deed Completely
The majority of recorded deeds genealogists use are handwritten and written in cursive. Cursive handwriting is challenging to read quickly for most people. Additonally, many people miss details that provide evidence of relationships, such as parents and children.
To ensure all the information is extracted from a real estate deed, a transcription should be made.
To transcribe the document, read it from top to bottom and type each word into Word, Google Docs, or something similar. The goal is to type each word exactly as it is written:
If something is illegible, note it in your transcription with [illegible].
If  words are unusual in spelling or capitalization, do it the same in your transcription.
If there are blank spaces, note those with [blank space]. These details could be important and you don't want to miss them.
In the process of transcribing, most people discover not only names and dates, but  additional information.
Can you find how this deed that builds a family tree in this example?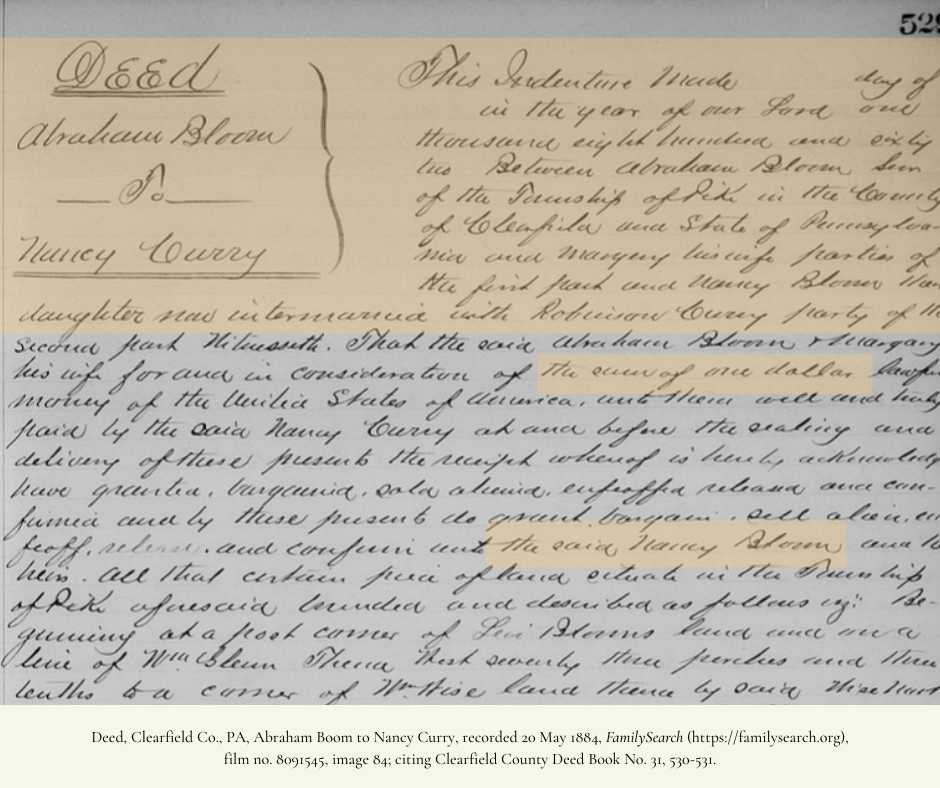 Transcription: "This Indenture made [empty space] day of [empty space] in the year of our Lord one thousand eight hundred and sixty two between Abraham Bloom soon of the Township of Pike in the County of Clearfield and State of Pennsylvania and Margaret his wife parties of the first part and Nancy Bloom his daughter now intermarried with Robinson Curry part of the second part...."
What I Learned Transcribing This Deed
Here's what I learned from transcribing this deed and what information I found to build out my family tree.
This deed was recorded on May 20, 1884 but it refers to a real estate transfer in 1862. Abraham and Margaret Bloom of Pike Township, Clearfield County gave the piece of land described in the deed to their daughter Nancy Bloom in 1862. The exact month and day is left blank unfortunately. It is also mentions that Nancy Bloom is now (as of 1884) married to Robinson Curry. Nancy and Robinson likely married after 1862 since the land was given to her and not to both of them.  No other proof of this couple's marriage has been found, except in this deed.
This real estate deed is the only evidence of the marriage of Nancy Bloom and Robinson Curry.
Deeds can been time-consuming to read and transcribe, but their information is valuable to reconstruct family trees of Pennsylvania's earliest citizens.
To find deeds on your ancestors, check out: The Easy Way to Find Deeds in PA.
© 2019–2023 PA Ancestors L.L.C. and Denys Allen. All Rights Reserved.