Hidden Treasures in Pennsylvania Records at FamilySearch
FamilySearch holds the largest online collection of Pennsylvania records for genealogy research. Here's how to find what you need to complete your family history in Pennsylvania.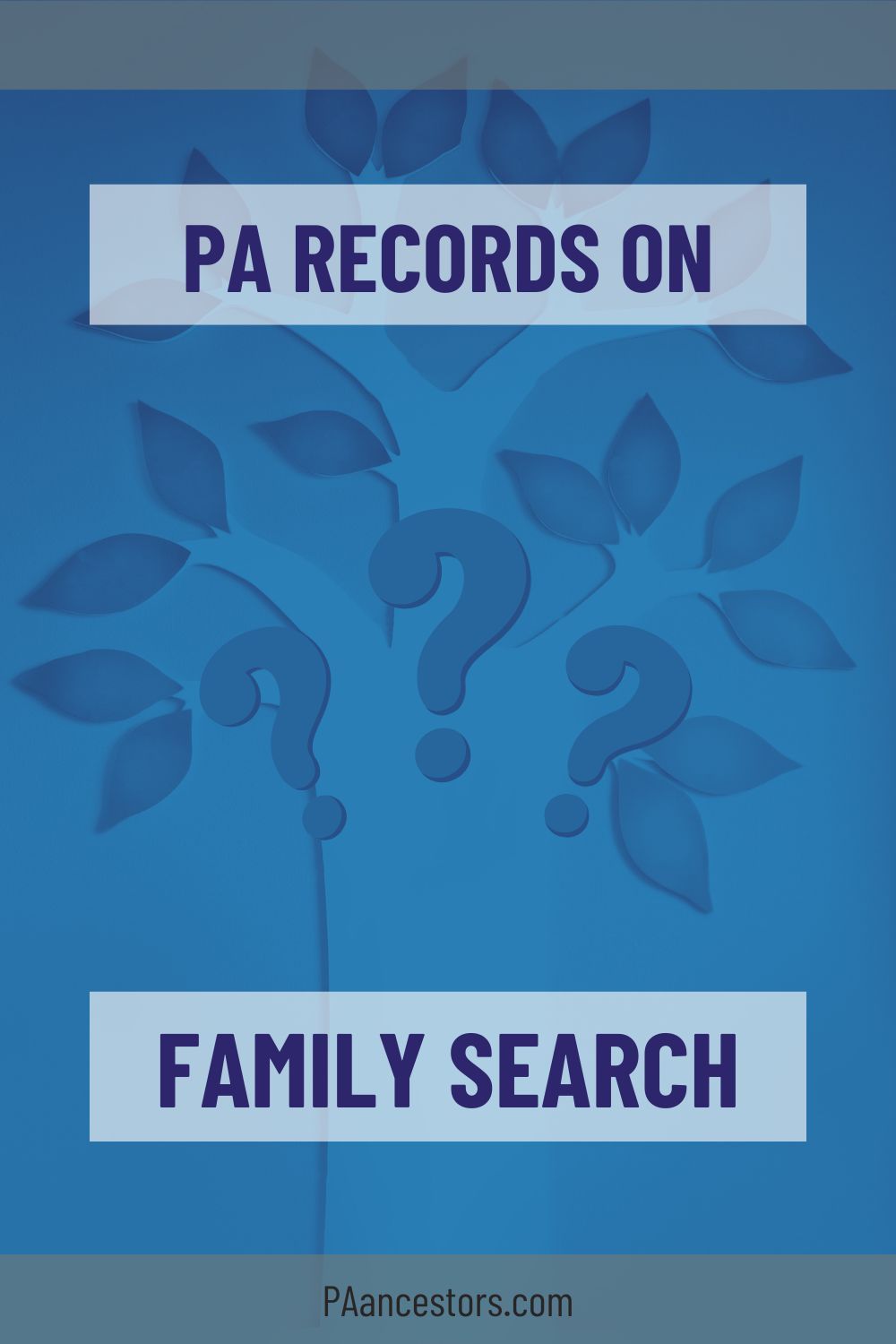 FamilySearch is a mega-site of genealogical records for family historians. Millions of microfilmed and digitized records in the catalog hold hidden treasures for the adventurous genealogy researcher. I'll point you in the direction to start your search in this blog post.
FamilySearch.org is a completely free website managed by the Church of Jesus Christ of Latter-day Saints. The LDS Church requires its members to complete their family trees and FamilySearch helps its members do that. I feel so fortunate that the church makes their millions of records so accessible to non-church members.
FamilySearch Record Categories
There are three major categories of genealogy records on FamilySearch. The first, like with other major genealogy websites, are family trees submitted by FamilySearch members. Check these to see completed research on a family line in your tree.
The second category of records are published books and indexes of local genealogy records. There are some gems of local history and indexes of unusual records for many counties that you'll want to browse. An ancestor could be in one of these histories. At the very least you'll learn the names of the "famous" people which can help locate additional records in archives.
The final category of FamilySearch records is everyone's favorite – actual genealogical records! Church volunteers indexed millions of genealogical records, such as birth, death, and marriage certificates, wills, deeds, and church records. Indexing means that genealogists can access the records the way we do on any site by typing names into search fields and hitting enter. However, not every genealogy record on FamilySearch is indexed.
Searching the Catalog
The Genealogical Society of Utah (now FamilySearch) microfilmed many PA county courthouse records beginning in 1938. Millions of pages of wills, deeds, orphans court records, and many other records were preserved on microfilm. The only microfilmed records for most PA counties are in FamilySearch. In fact the microfilmed county records at the PA State Archive are 99% copies of these FamilySearch records.
In the past few years, FamilySearch digitized their microfilm, making it viewable on their website. Restrictions by the record creators (the county courthouse, a church, or other group) limit viewing of some of the records, but the majority are viewable at home on your computer for free. Just set up a free FamilySearch account and go to the images.
It is within these millions of images of genealogy records, you'll find hidden treasures. To access the microfilmed images, go to the FamilySearch Catalog here.
Type the state followed by the county name. In this example I'm searching Clearfield County, PA.
Wills and estate records that went through the Orphans Court often list children of parents, and I want to see what is there. Scroll down to Probate records and click.
And then scroll down on the next screen to see all the digitized microfilms with the camera icon.
Now I wish at this point I could write up simple directions to tell how to easily search the microfilms. In reality, the organization of each county's microfilm varies. This is one of those situations you need to put on your Indiana Jones explorer's hat and dive in.
In general, you'll find each microfilm reel holds images of one or two ledger books. Imagine you are holding the ledger book in paper in front of you. Each ledger book had an index in the front for the clerk to look up records and this is the index you'll use. Sometimes indexes are in separate volumes from the records so browse through the microfilms to check. Be wary of the microfilm titles – they don't always match the contents of the actual film,so check everything inside.
Can it be frustrating? Sure. Is it rewarding? Yes! If you can't access the actual original records of your ancestors, these microfilm copies are the next best thing. I find keeping the mindset of going on a genealogy adventure to find hidden treasures, makes the experience much more fun.
If I could only pick one genealogy website for access, it would be FamilySearch due to the variety of original records and the possibly of hidden treasures.